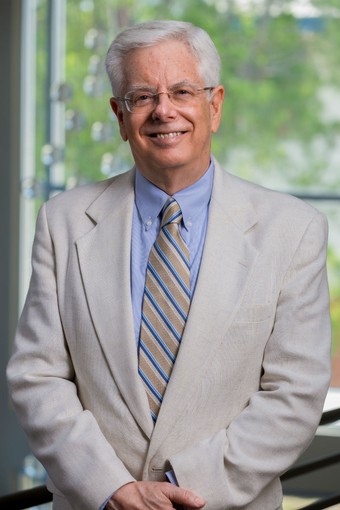 When Biola began its search last year for the first-ever dean of the new School of Science, Technology and Health, several search committee members had the same question about the job description: Can one person really do all of this?
The new school needed an ambitious leader — someone with a strong Christian faith, extensive leadership experience in higher education, a record of scientific scholarship, a knack for making entrepreneurial connections and a gift for fundraising. To many, the wish list seemed long and, well, wishful.
But over the summer, the committee announced that they had found an ideal match: Paul W. Ferguson, a scientist and former university president with a strong record of accomplishment in both academic and corporate settings.
"I couldn't be more delighted that Dr. Ferguson accepted our offer and will bring his vast experience both in leadership and the sciences to Biola University," said Deborah Taylor, Biola's provost and senior vice president. "From our very first conversation, I was impressed by his stellar achievements in higher education coupled with a lifelong commitment to servant leadership."
Ferguson, who stepped into the new role in July, has 25 years of experience in academic administration, having served as president at both the University of Maine and Ball State University and in cabinet-level positions at the University of Louisiana, Monroe, University of Nevada Las Vegas, and Southern Illinois University Edwardsville. He also has a wide background in health sciences teaching, research and public service. He holds a doctorate in pharmacology and toxicology from the University of California, Davis, and has published extensively on leadership, education and scientific research.
Throughout his administrative career, Ferguson has maintained close involvement in academic development of science and health sciences programming. He began his academic career as an assistant professor of toxicology in the College of Pharmacy and Health Sciences at the University of Louisiana Monroe. During his time serving as senior vice provost at UNLV, he led initiatives to develop and re- structure health sciences programs at the university into a new Division of Health Sciences including development of a new School of Public Health.
Following his time at UNLV, he went to SIUE, where he served as provost and vice chancellor for academic affairs, working closely with deans to develop new academic programs, including a new Doctor of Nursing Practice. During his service at Ball State University, the campus formed a new College of Health and approved a new $62.5 million health professions building.
Ferguson said he is passionate about leading in the integration of a Christian worldview with science, technology and health sciences education. And he's excited about what the launch of a new school and new building will mean for the future of Biola's programs.
"With the remarkable development of the new Alton and Lydia Lim Center for Science, Technology and Health, commensurate with the reorganization of those disciplines into a unified academic structure, Biola has taken a visionary step to enhance its position as a top-tier national university," Ferguson said. "As my wife, Grace, and I are led to close the chapter of our lives focused on public higher education, we are looking forward to building an integrated environment of faith and academics to educate young men and women to impact the world for Christ."