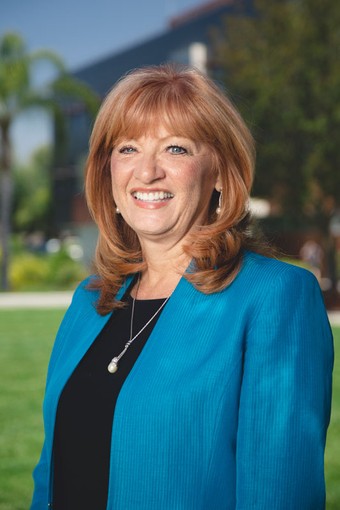 Deborah L. Taylor ('93, M.A. '01), a longtime Biola University administrator and faculty member, was appointed in May as the university's new provost and senior vice president. In the role, which she held on an interim basis for nearly a year, she will serve as the university's second-ranking official and provide key leadership to Biola's academic programs.
"Deborah Taylor has the ability to lead graciously and wisely in this role, and this has been affirmed by her colleagues both as interim provost and in her previous university capacities," said President Barry H. Corey. "Her commitment to Christian higher education will help position Biola as a missionally stronger university for the coming years. I am honored to serve alongside such a wise leader who will continue the good momentum that is underway."
Taylor has served in numerous roles since joining Biola as an education professor in 2001. Prior to her position as interim provost, she most recently served as the associate provost for educational effectiveness, overseeing Biola's accreditation process with the WASC Senior College and University Commission. Taylor also knows Biola from the perspective of both a student and an alumna, having received both a B.S. in organizational leadership and an M.A. in education from Biola, in addition to a Ph.D. in educational studies from Claremont Graduate University.
"An invitation to step into this role for this season in Biola's history is an honor, and one I believe God has been shaping me to do over the course of my life and career with the skills and understanding to help the university move forward in concrete, tangible ways," Taylor said. "I am humbled and incredibly grateful for the increased opportunities to influence good things for Biola."
As Biola's chief academic officer, Taylor will work closely with Corey to envision and lead all academic programs as Biola continues to build and strengthen its global presence in Christian higher education. In addition, she will work with academic administrators, deans and faculty on day-to-day academic issues, including: faculty recruitment, promotion and tenure; new academic programming initiatives; and faculty development.