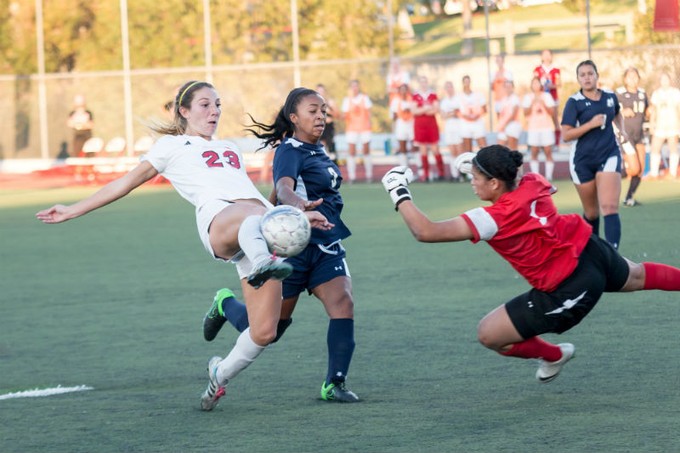 Biola's athletic programs celebrated the start of a new era in July, when the university's application for membership into the National Collegiate Athletics Association (NCAA) Division II was approved for the three-year membership process.
"We couldn't be more excited about the news of joining the NCAA Division II," said President Barry H. Corey. "Membership will allow Biola to become part of an organization that aligns closely with our vision and values. I believe we have a great deal to offer one another."
Approval by NCAA officials is the culmination of a several-year effort on the part of Biola administrators. After careful consideration of the value of changing athletic affiliations, the Board of Trustees voted in January 2015 to pursue NCAA membership. Under the leadership of Bethany Miller, Biola's athletic director, the university prepared and submitted its application in January 2016, and underwent an NCAA campus review in April.
Biola, which has been affiliated with the National Association for Intercollegiate Athletics (NAIA) since 1964, has seen its accomplishments on the field increase in recent years. The university reached an athletic milestone last season when for the first time in program history its teams earned a top-10 spot in the Learfield Sports Directors' Cup rankings. In addition, Biola's athletic teams won five Golden State Athletic Conference championships during the 2015–16 season.
The Eagles will continue as an active member of the GSAC conference and NAIA for the 2016–17 school year while completing Provisional Year One with the NCAA. Beginning in Provisional Year Two (2017– 18), Biola will join the Pacific West (PacWest) Conference and compete primarily against NCAA opponents. With successful completion of Provisional Year Three (2018–19) of the membership process, the Eagles will gain full, active NCAA Division II membership and become eligible to compete for NCAA Division II championships beginning as early as 2019–20.
The PacWest Conference is made up of 14 member institutions and sponsors 15 NCAA Division II sports. The conference is made up of institutions based in Southern California, Northern California, Hawaii and Utah. Biola will join a conference with former GSAC rivals Azusa Pacific, California Baptist, Concordia-Irvine, Fresno Pacific and Point Loma.
"The NCAA Division II is a great fit for Biola University," Miller said. "The strong emphasis on student-athlete academic success, community engagement and competitive excellence aligns with our philosophy to develop student-athletes in Christlike character and to thrive at Biola and beyond. We have much to accomplish during our provisional membership period, and we are committed to becoming a model Division II institution."
Biola sponsors 19 varsity intercollegiate athletic programs — nine men's and 10 women's. Over the past five seasons, Biola's athletic teams won 10 GSAC championships and four GSAC tournament championships, sending 44 different teams to their respective NAIA national tournaments. Over the previous three years, Biola's student-athletes have accumulated 102 NAIA All-American honors and 234 all-conference honors.