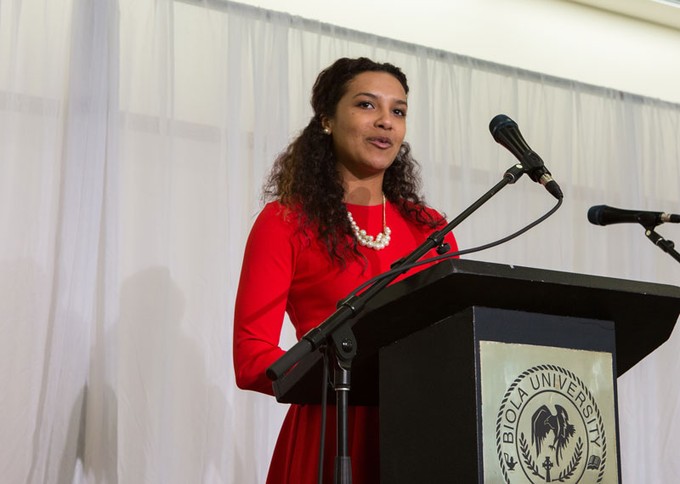 Taylor Stribbling's final year at Biola also marked a big first. The 2015–16 school year marked the debut of the Student Government Association, and Stribbling served as its first president.
The senior sociology and political science major was elected by her peers last spring to lead the new organization, which reimagined and replaced Associated Students, the organization that formerly represented students and oversaw student programming. In the role, Stribbling was the leading representative of the student body, serving as an advocate to the administration on their behalf. She also led a hired and elected team of students responsible for communicating with the campus and voting on such decisions as how to allocate student fees.
"Knowing that it was the first year of SGA, I wanted to do a lot of internal work to see how the organization is structured, and what changes I could make on the inside that were going to benefit students after the year was done," she said.
The year taught her some valuable leadership lessons, such as the importance of seeking the Lord's guidance through consistent prayer, she said. She also realized how important it is for leaders to be people-oriented and confident in how they want to lead so they can boldly take risks that will be beneficial for those who are under their leadership.
"I have learned that when you're not fully seeking the Lord you depend on people too much," Stribbling said. "You can't keep giving and giving if you're not receiving from someone else. I know that in my leadership I love to be intentional and I oftentimes feel like I can run dry if I'm not coming back to the Lord to rejuvenate and refresh and take care of myself as well."
As she finished her last semester at Biola and as SGA president, Stribbling said she hoped to continue laying a foundation that would make it easier for student presidents to follow after her. After graduation, she plans on pursuing her passion to defend victims of sex trafficking as an attorney.