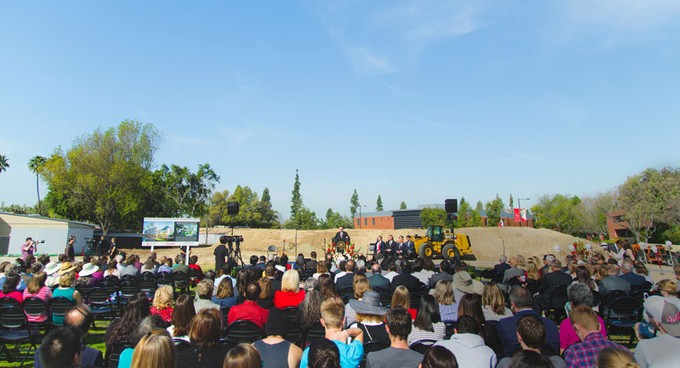 Biola broke ground in February on the most ambitious building project in its history, an expansive new science facility that will serve as a home to some of the university's fastest-growing and most in-demand programs.
Set to open in early 2018, the Alton and Lydia Lim Center for Science, Technology and Health will triple the amount of space devoted to science education at Biola and provide cutting-edge equipment and research opportunities to students and faculty.
"As we embark today on the building of this significant structure — the largest academic facility in the history of this campus — I am certain of this one thing: This will be a building whose laboratories, and whose microscopes and whose petri dishes, and computers and other offices are all utilized not to deify nature or to declare the achievements of man, but to declare the glory of God," President Barry H. Corey told a crowd gathered for the Feb. 26 groundbreaking ceremony.
Located along University Drive near the main entrance to campus, directly south of the library, the 91,200-square-foot building will provide 30 laboratories, three classrooms, research spaces, faculty offices and all-new technology.
The building will also serve as the main home for Biola's new School of Science, Technology and Health,set to officially launch later this summer. The new school will bring together numerous science-related programs that were previously under the umbrella of the School of Arts and Sciences, including: biological science; biochemistry; chemistry; communication sciences and disorders; computer science; engineering physics; environmental science; human biology; kinesiology; mathematics; nursing; physical education and physical science.
University leaders said the building will take Biola to new heights in the sciences and will help to prepare future generations of students for leadership in growing fields.
"We know that this will help us be a much more leading voice in the sciences, technology and health fields, and it will help us to do it from a perspective of our faith, which is often lacking in the sciences," said Deborah Taylor, Biola's provost and senior vice president. "We believe that this new building is probably the most dramatic evidence of the way that Biola is advancing our academic reputation for the future."
With a cost of $63 million, the building is the centerpiece of Biola's current $180 million fundraising campaign, "A Soul of Conviction, A Voice of Courage: The Campaign for Biola University." To date, more than $48 million has been committed toward its construction, including a $12 million gift from Alton Lim, for whom the building is named.