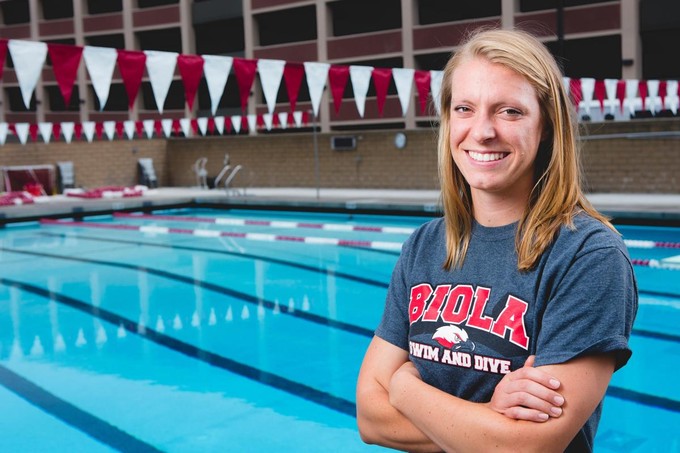 For Christine Tixier ('15) competitive swimming was something that she had consistently performed well in, but her excitement and passion for the sport had filtered out over the 11 years spent in the water. Although she was excited about starting her freshman year at Biola, she was uncertain about her decision to compete on the swim team.
Four years later, she graduated as one of Biola's most decorated swimmers in program history. During her time at Biola, Tixier won eight national championships, 12 All-American honors and two NAIA Women's Swimmer of the Year awards, while also breaking 11 school records and three national records.
Out of the pool, Tixier was also honored for her excellence in academics. She received two NAIA Scholar-Athlete honors along with two Capital One/CoSIDA Academic All-American honors. Despite all of these remarkable achievements, Tixier has remained humble and level-headed with each passing year.
"Christine has never been the kind of swimmer who pressures herself to swim or puts a lot of expectation on herself, and I think that it's one of the things that made her so successful," said head coach Eddie Shepard. "One of the things that I saw change between her first year and senior year was that she really learned to want to be successful. She loved the competition and she enjoyed the challenge of racing."
Throughout her freshman year, Tixier wrestled with wondering if she should continue swimming. Her love for the sport had not sparked yet and she questioned whether or not it was something that God wanted her to pursue. After a successful first year at the national championship meet — which included winning the 100-yard butterfly and setting the national record — Tixier felt the affirmation that swimming was something that God had planned for her time at Biola.
"The Lord just kept reaffirming in me that I am swimming because he has given me the ability to do it," Tixier said. "I know that he has enabled me to do well, to swim fast, and that's a gift that he has given me. I think he wants his creation to reach their fullest potential and I think that's why I train hard."
As the chapter in competitive swimming closes for Tixier, she steps onto dry land for the next chapter that focuses on her human biology major. Over the summer, she traveled to Indonesia for an internship to study science and biology in a cross-cultural environment.
"I don't know what I was expecting, but I was surprised that the equipment and techniques that they use are just the same as those that we use here, even in our labs at Biola!" she said. "It was very affirming to see that the training I have received as a science major really is excellent preparation for real-life science."
Now back in the States, Tixier is working as a home- school chemistry teacher in Brentwood City, Wash. She hopes to one day work in a lab full time with the hopes of continuing to teach on the side.