In May 2015, the university publicly launched "A Soul of Conviction, A Voice of Courage: The Campaign for Biola University." The $180 million fundraising effort seeks to make Biola more affordable for students, to provide new facilities that inspire learning, to support new academic initiatives and to extend Biola's global reach.
As the university's Office of Advancement continues to raise support for this unprecedented goal, here is a collection of updates from the campaign trail.
Campaign Progress
With nearly four years completed in Biola University's five-year, $180 million campaign, fundraising progress is on track to exceed the goal by the campaign's conclusion in December 2016. This graphic shows how Biola's year-by-year progress in the campaign has trended above annual goals and the pace needed to achieve the total campaign goal on time.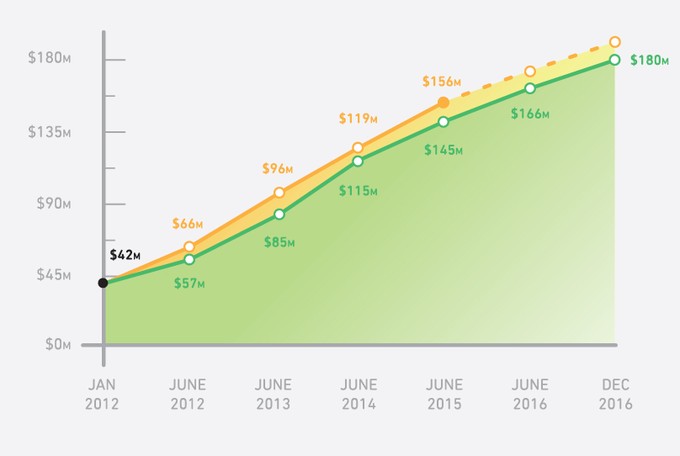 ---
Supporters #JoinBiola to Raise More Than $124,000 on #GivingTuesday
On Dec. 1, Biola University hosted a 24-hour online giving challenge in conjunction with #GivingTuesday, a global day of generosity that comes annually on the heels of Thanksgiving, Black Friday and Cyber Monday.
Biola's #GivingTuesday challenge raised more than $124,000 for student scholarships as part of The Campaign for Biola University. Everything raised on Dec. 1 will be applied toward student scholarships in fall 2016.
"What we experienced on Giving Tuesday was yet another historic moment in the life of this university," said Adam Morris, vice president for advancement. "We are overwhelmed by the generosity that was poured out by alumni, parents, faculty, staff and so many students! God multiplied our efforts and the work that went into planning for our first-ever Giving Tuesday fundraiser was another step forward for the Biola University community becoming a culture of generosity and gratitude."
This wasn't the first time Biola University has held a 24-hour online giving challenge. The #BiolaTen10 campaign in 2013 challenged alumni, supporters and friends to donate $10 or more on Oct. 10, 2013, an effort that raised more than $16,000 in one day for student scholarships.
This year's challenge on #GivingTuesday had a much more ambitious one-day goal: $100,000.
"We aimed high because the need is great," said Chris Johnson, campaign marketing manager, who is spearheading the event. "Biola is committed to a more affordable future for students, and we believe that a single day of generosity can make a big impact."
---
Fundraising Continues for New Science Building, Family Gives $1 Million
The most urgent priority of The Campaign for Biola is the raising of additional funds necessary to break ground on the Alton and Lydia Lim Center for Science, Technology and Health. This 91,000-square-foot facility will greatly enhance Biola's science programs and enable the university to better prepare a generation of students to be ethical and excellent professionals in health care and the sciences, grounded in a Christian worldview.
In August, Biola received a generous gift of $1 million to support the building. The donors, who wish to remain anonymous, are Biola grandparents with five grandchildren who have attended or are currently attending the university. They have seen firsthand how Biola offers solid biblical teaching that is applicable to all arenas of life.
"A good education is the foundation for family, church and country," they said in an email. "Biola mirrors the way education began in America, teaching a balance of biblical, spiritual and practical truths for living and making the world a better place."
In order for Biola to continue as a leading institution of Christian higher education, however, the new science building and expanded vision for the sciences will be crucial, they said. "Biola has a great need to expand its science program to compete with other larger schools in this critically important area," they wrote.
HELP US BREAK GROUND!
To date, more than $45 million has been secured toward the Alton and Lydia Lim Center for Science, Technology and Health. Two key fundraising milestones remain to allow for groundbreaking and occupancy.

An additional $5.4 million is needed by January 2016 in order to break ground. We could get there a number of ways, with your help. Here's one scenario: