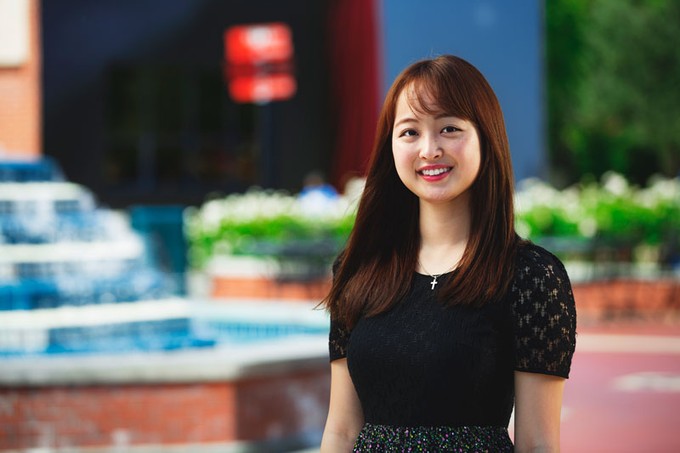 Si Nae Kim ('14) came to Biola against all financial odds. As an international student from China — where her parents serve as missionaries — Kim was ineligible for loans in the U.S. and had to rely on scholarships from the university and local churches.
"Every semester was a battle," she said, referring to the struggles she faced trying to pay her tuition fees. "It's like, 'Am I going to be able to enroll this semester?'"
Kim — fluent in English, Korean and Mandarin Chinese — was born in South Korea and raised in China, where she attended an international school. While volunteering as a third grade teaching assistant, she realized God's calling for her to pursue a career in teaching.
"When I went into the classroom, I felt that peace and joy to be able to be with students and help them out," she said.
Following her passion, Kim chose to attend Biola and pursue a major in liberal studies with a concentration in elementary education. In order to meet the costs of attending Biola, she sought financial support from the university, local churches in Korea and the U.S., and even family members — efforts that often fell short of covering her tuition.
The stress Kim experienced trying to pay for school was burdensome. During one of her hardest seasons, she wrote a testimony letter to President Corey, professors and friends, asking for prayer about her financial situation. Because of this letter, she received help from professors, friends and even one anonymous donor, and was able to pay her tuition that semester.
Kim completed her undergraduate studies a semester early and was on the dean's list every semester. She was also heavily involved in Biola's campus life, particularly with organizations such as Heart for China and the symphony orchestra. She's currently finishing a Master of Arts in Teaching degree at Biola's School of Education.
"I was able to continue without giving up because I know God is faithful and he provides," Kim said. "Once I'm ready, my vision is to go back to China and teach missionary kids because as a missionary kid myself, I understand their struggles."