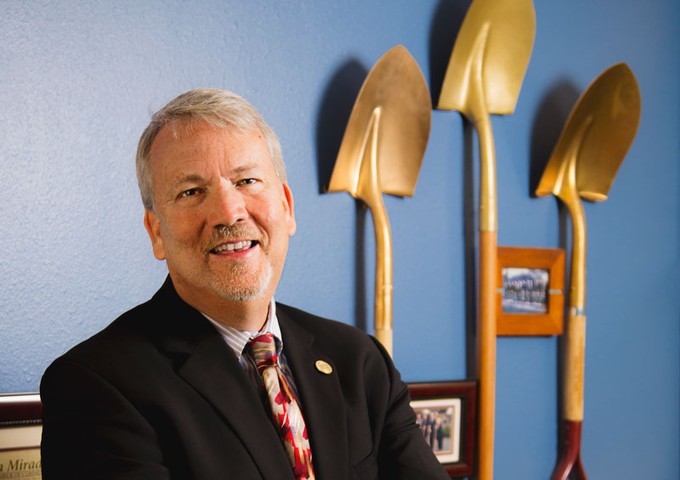 Are you as excited as I am? I look through the amazing stories in this issue of Biola Magazine and I am overwhelmed by God's provision and blessing on Biola University. Having spent the majority of my adult years here at Biola, under the leadership of three different presidents, I can say that I have never observed such an outpouring of God's provision in such a spectacular way, or held the level of excitement and pride that I have in Biola and the call for "A Soul of Conviction, a Voice of Courage!"
The feeling I have about the launch of The Campaign for Biola University must be a little like what R.A. Torrey and T.C. Horton felt at the groundbreaking in Los Angeles for the Bible Institute on June 12, 1912. Or even perhaps the feeling, a year later, on May 31, 1913, when the cornerstone was placed for the original Institute building. Growth was happening and a grand vision for what Biola could be, and would be, was becoming reality. That's how I feel today!
I have hanging prominently in my office three shovels. I know they are probably not the first — or even second — choice of professional interior decorators, but I wouldn't trade any of them for the most expensive piece of art. You see, each of these shovels represents the groundbreaking for three distinct buildings on this campus for which I partnered in the work, which are now helping to prepare the next generation of Christian men and women to impact the world for Christ in their chosen field of study. These shovels represent the partnership of like-minded Christian men and women who understood how their giving, and the completion of those buildings, would encourage and build others who would come after them to take up the work of Christ literally around the world.
The same challenge is repeated for us today with the centerpiece building of the campaign, the Alton and Lydia Lim Center for Science, Technology and Health. Are we demonstrating a soul of conviction and a voice of courage? Are we willing to step up and prepare the way for the students who will come, like many of us have for more than 107 years, to be trained not only to succeed in their professions, but to be proficient and successful in their spiritual journeys?

Why are these new facilities so important? Well, we all know that Biola is more than any building. It is really the team of men and women who take seriously the preparation of students with excellence. What these buildings do, however, is provide the facilities and resources necessary for our faculty and staff to teach with excellence. And as we look to the future, there are few fields of study that have as much promise and as much need for well-equipped Christians as the areas of science, health and technology.
I hope you will consider how you can partner with this generation of Biola alumni, parents and friends to impact the next generation of alumni, parents and friends — the next generation of world changers. For together, we are alumni for life!
Rick Bee ('79, M.A. '90, Ph.D. '01) is senior director of alumni. Contact him at rick.bee@biola.edu