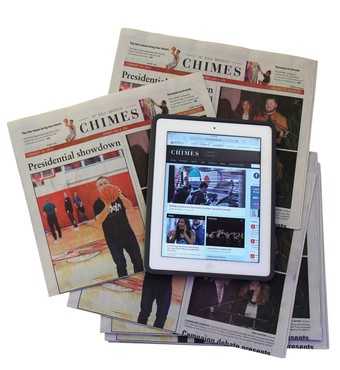 Biola's student newspaper, The Chimes, won the Online Pacemaker Award on Nov. 1 at the Associated Collegiate Press (ACP) and College Media Advisers convention in Philadelphia. This is the second year in a row for The Chimes to win an Online Pacemaker, the highest national award for student publications. The prestigious award ranks Biola's newspaper as one of the best in the United States and Canada. Alumna Olivia Blinn ('14) also won third place for photo excellence in the general news category of ACP's individual awards.
"The Pacemaker is validation for all the hard work we put in last year and the things we tried to accomplish together as a team," said Heather Leith ('14), former editor-in-chief of The Chimes. "It's the highest possible recognition you can get, so it's an honor."
The Chimes placed alongside two other schools in the enrollment category of 5,001 to 10,000 students: Harvard University and Camosun College. According to the ACP website, "the most successful sites had clean and accessible designs, excellent writing and editing, strong handling of breaking news and had superb social integration." Journalism professionals chose winners from hundreds of entries and six finalists.
This is the fourth consecutive year
 The Chimes staff
 has received national recognition for their work. They were Online Pacemaker finalists in 2012 and the print edition won a Pacemaker in 2011.
The Chimes and its staff members have also won a variety of awards from the California College Media Association (CCMA) and the Baptist Press, and current editor-in-chief Anna Frost is a two-time CCMA award winner for her food blog, Don't Forget the Frosting.
The 2013–14 staff included Heather Leith, editor-in-chief; Kevin Botka, online editor; Christina Bryson, Web producer; Katie Nelson and Anna Frost, news editors; Lena Smith, features editor; Tyler Gunhus, sports editor; R.J. Winans, opinions editor; Parker Munson, arts and entertainment editor; Olivia Blinn, photo editor; Ashleigh Fox, Web photo editor; Rachelle Cihonski, senior copy editor; Thomas Harlander and Rachel Thompson, copy editors; Melanie Kim and Katie Brown, design editors; Zachary Fu, video producer; Austin Champion, business manager; and Sarah Sjoberg, advertising manager.