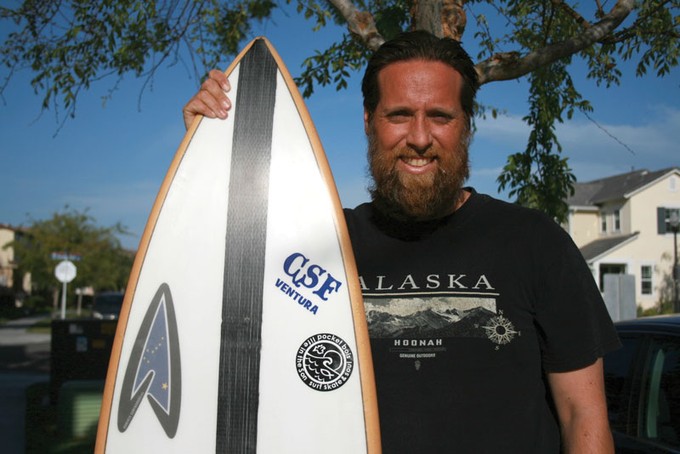 Daniel Felton ('98) has a vocation that most people reserve for vacation — surfing.
Felton works for the Christian Surfing Federation (CSF), a Ventura-based missions organization committed to bringing the gospel with them as they paddle out into the waves. CSF hosts Bible studies, day surf trips, camping trips and more in order to build relationships with the surfers in their area.
Felton handles organizational finances and payroll, manages social media, prepares Bible study content and works with CSF chapter directors in other cities. He also does the hands-on work of sharing Jesus with his surfing community.
The path to his unlikely career began while an intercultural studies major at Biola. On a Honduras mission trip with the Student Missionary Union, he felt certain he would spend his life as an overseas missionary.
"The further along I went the more I realized that God had given me the abilities, personality and background that I had for a reason … to reach surfers with the good news of Jesus Christ," Felton said.
Even as Felton was considering the possibility of being a missionary surfer, he was in disbelief that such a radical idea could become a reality. He and his wife, Allison ('99), whom he met during orientation week at Biola, approached their pastor with the idea, convinced they would be laughed out of his office. Instead, the pastor confirmed their calling, and shortly after, they moved to Australia to work with Surfers for Missions in Queensland. After serving in various capacities with a few different organizations, Felton wanted a position rooted in relationality, and has been with CSF since 2011.
Felton's days are always different, whether he is visiting a surfer in jail, ordering CSF-branded clothing, maintaining a text prayer chain, or simply heading to the beach to surf. His favorite part of his job is seeing surfers take spiritual growth steps.
He recalled seeing a surfboard shaper come to know Christ after 10 years of hearing the gospel, and another surfer finally realize his calling to use surfing as a tool to evangelize.
"Those are the times when I get the biggest feeling of accomplishment and joy," Felton said.
For more information, visit christiansurfingfederation.com.