This is a historic moment for Biola University. It is, to hear university leaders tell it, a point in time that future generations of Biolans will look back on, amazed at what God accomplished.
In May 2015, the university took an ambitious step toward new heights as a global leader in Christian higher education by publicly launching a $180 million comprehensive campaign — the likes of which has never been seen in Biola's 107-year history. Titled "A Soul of Conviction, A Voice of Courage: The Campaign for Biola University," the unprecedented fundraising effort will seek to make Biola more affordable, more innovative and better equipped to impact the world for Christ for many years to come.
"We believe the time is right to step out in faith, trusting that the legacy and global impact of Biola's first century is just the beginning of what God has planned," said Biola President Barry H. Corey. "This campaign is an opportunity to be part of God's sovereign work by equipping this and future generations of students to become the intellectual and spiritual leaders that our world so desperately needs."
The campaign aims to set the stage for Biola's future, further strengthening the only Christian university to be ranked as one of America's top 10 "up and coming" national universities by U.S. News & World Report. Specifically, the campaign will make substantial financial investments into four main university priorities.
The highest of these is addressing the challenges of college affordability, with $85 million — or roughly 47 percent of the overall campaign goal — slated for student scholarships. In the face of a national college debt crisis, this scholarship funding will directly support Christian students who desire a biblically centered education but find the costs increasingly out of reach.
Another $74 million will go to provide facilities that inspire learning, the largest of which is a state-of-the-art new building that will equip students for careers in science, technology and health. As these fields experience significant growth in the years ahead, the campaign will allow Biola to more effectively prepare graduates to enter demanding careers where thoughtful, skilled Christians are more needed than ever.
The campaign's goals also include $13 million to influence the world of ideas, largely through new academic centers, and $8 million to extend Biola's global reach through international partnerships and the expansion of online programs.
All told, Corey said, the $180 million effort will move Biola closer to its vision of being one of the world's foremost Christ-centered universities — a community abiding in truth, abounding with grace and compelled by Christ's love to be a relevant and redemptive voice in a changing world.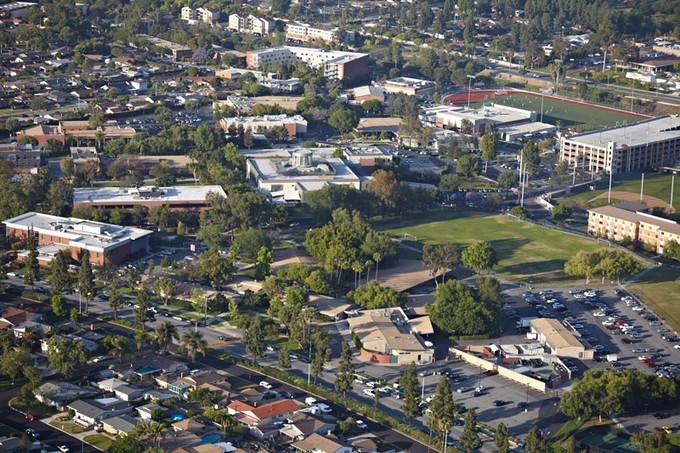 Why $180 Million and Why Now?
The decision to take on such a monumental fundraising effort didn't happen lightly, nor did it happen overnight.
The campaign is the direct result of several years of strategic planning, in which university leaders charted a vision for the university's future, said Adam Morris, Biola's vice president for advancement. The results of that planning, laid out in the 2012–22 University Plan, included seven key aspirations related to biblical fidelity, academic strength, spiritual growth, affordability, technology and other areas.
The dreams were big. But at the outset, university leaders knew the big dreams would also carry a big price tag — well over $100 million.
That kind of fundraising was unprecedented for Biola. Over the past 30 years, the university had conducted a series of individual building campaigns: $4 million to acquire a middle school campus; $20 million for a new library; $13 million for a new business building. But never before had Biola sought to raise more than $20 million in a single campaign, let alone $100 million or more.
Before moving any further, the university decided to conduct a feasibility study— an honest assessment of what Biola could aim for as a realistic goal. With help from fundraising consultant Marts & Lundy, the university surveyed 6,000 alumni, parents and friends, and conducted more than two dozen face-to-face interviews. The study sought answers: How enthusiastic were alumni about the university's future? Would there be interest among donors?
"We wanted to listen to our constituents. We didn't go into this campaign blind," Morris said. "We were very intentional in testing our vision for the future to make sure that our audiences could get excited about where we are going. And we wanted to align the projects to that vision."
The results of the feasibility study were encouraging. Based on the responses, the consultants determined that $150 million was an attainable goal, though that might be just within reach.
As they prayerfully considered the results, Biola's leadership felt a conviction to step out even further in faith, Morris said.
"We knew that $150 million would be a miracle," he said. "As we examined our needs, we landed on $180 million, knowing that it would be an even greater miracle, but was closer to our actual needs."
On Jan. 21, 2012, Biola's Board of Trustees cast a unanimous vote to move forward with the $180 million campaign. Together, they stood and prayed, committing the plans to the Lord.

'We Have Felt Such Confirmation from God'

In an unprecedented campaign, the response has been equally unprecedented.
After launching in January 2012, the campaign entered a "quiet phase," a three-year period in which university representatives met with potential supporters capable of giving large gifts. With help from an all-volunteer cabinet, Biola leaders presented the university's vision to families and foundations across the country and around the world. The aim was to build momentum by raising at least 70 percent of the overall goal before going public with the campaign.
During that time, Morris said he and his team experienced countless "miracle moments" — story after story of God providing in unexpected and surprising ways.
People with no
 previous connec
tion to the university were energized 
by Biola's vision and
 gave generously.
 Longtime supporters gave at much
 higher amounts 
than Biola's team
 would have imagined. And on several occasions, the Lord fully prepared
 supporters' hearts
 before they had even heard the details of the campaign, moving them to make financial commitments very early into a fundraising presentation, Morris said.
The pace of giving has been unlike anything Morris has experienced at Biola, he said. For the sake of comparison, it took four full years to raise $18.2 million for the most recent classroom building, Talbot East. Meanwhile, $15 million was given in a mere six months during the first half of the 2014–15 fiscal year.
"There have been moments throughout the campaign when it's been so clear that God is at work and his favor is on the university right now," Morris said. "In this campaign, unlike moments I've had in previous campaigns, there has been so much momentum and such widespread excitement about the vision and future of the institution. Over and over again, we have felt such confirmation from God that we are pursuing the things that he wants us to pursue."
By May 2015, more than $152 million had been raised — or roughly 84 percent of the total goal.
Now, during the long-anticipated public phase, a goal that once seemed to be a distant possibility is close to becoming a reality. Many miracle moments are adding up into one great miracle. History is being made.
"We're at the point where it's time to welcome in our alumni, parents, grandparents and friends of the university so that everybody can now participate," Morris said.
"This isn't just about big gifts. We recognize every donation, no matter the size, as a sacrifice and act of faithfulness to the Lord. Every gift moves us closer to the finish line — and closer to where we believe God is leading us as a biblically grounded, major national university that desires to make a global impact for Christ."
By the Numbers: The Campaign for Biola University
Total Fundraising Goal: $180 million
Where Will the Funds Go:


Improve student affordability: $85 million
Provide facilities that inspire learning: $74 million
Influence the world of ideas: $13 million
Extend Biola's global outreach: $8 million

Average Gift Size: $100
Total Progress: $152 million / 84% of the goal
Total Gifts to the Campaigns: 85,810
Largest Single Cash Gift to the Campaign: $12 million
Gifts of $1 Million or More: 32
Four things to know about the Campaign for Biola University
With a goal of $180 million, this is the largest fund- raising effort in Biola University's history — nearly 10 times larger than any previous campaign.
It is also Biola's first-ever comprehensive campaign, meaning funds are being raised for several major initiatives at once.
During the campaign's quiet phase, which began in January 2012, supporters gave more than $152 million to Biola.
The public phase launched on May 9, 2015, at the Ace Hotel in Los Angeles, just blocks from Biola's birthplace and home to one of the university's original "Jesus Saves" signs.
The Campaign in Context
The $180 million fundraising initiative is by far the largest in Biola's history — nearly 10 times larger than the amount raised in any of the university's previous individual campaigns.
1. 1986–90: $4 million
McNally Miracle Campaign
Purchased the former McNally Junior High School — 22 acres of land with 55,000 square feet of classroom space.
2. 1991–98: $20 million
Library Campaign
Constructed a 98,000-square-foot facility filled with study spaces, computer labs and a vast collection of print and digital learning resources.
3. 2000–04: $2.9 million
Rose Hall Renovation
Remodeled the vacated library in order to house Rosemead School of Psychology and other departments.
4. 2001–06: $2.6 million
Chase Gymnasium Expansion
Added athletic offices and 450 stadium seats in Chase Gymnasium, increasing event capacity from 2,400 to 3,200.
5. 2002–07: $13.3 million
Crowell School of Business Building
Constructed the first new instructional facility in 30 years — 31,770 square feet of classrooms and offices.
6. 2012–16: $180 million
The Campaign for Biola University
Funding student scholarships, new facilities, athletics enhancements, academic centers and global initiatives.