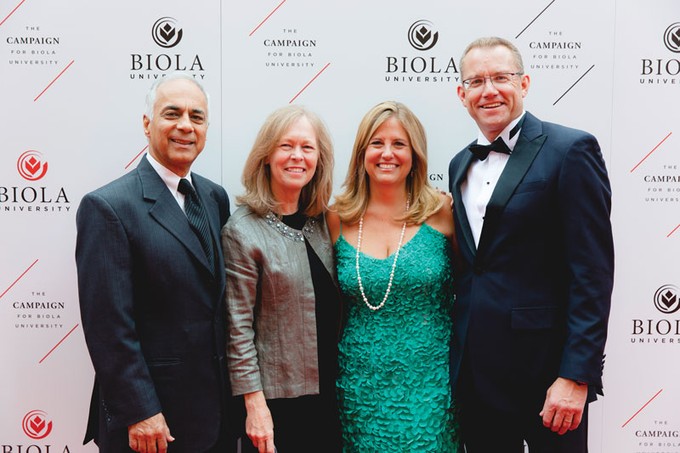 How does a university like Biola even begin to raise $180 million? In addition to plenty of prayer and planning, it takes a whole lot of help from our friends. That's where the "campaign cabinet" comes in. This team of committed and well-connected volunteers — many of them alumni, parents and longtime supporters — has offered insight and direction on the campaign's rollout, and has worked to share Biola's vision with others who have the means and desire to support the university.
Here, the cabinet's co-chairs — Duane and Becky Andrews and Promod and Dorcas Haque — explain why they've volunteered to provide leadership to the cabinet and what most excites them about the campaign.
Why do you support the mission of Biola University?

HAQUES: We like the fact that Biola University is built on the biblical foundation and has not deviated from this for over a century of its existence. Students graduating from Biola understand this biblical foundation and are thoroughly grounded in the accompanying truth.
What is it about Biola that sets it apart from other universities?

ANDREWSES: There are many great universities, but in our opinion, Biola is the best at providing biblically centered education that is firmly rooted in God's Word and prepares students to be competent leaders and professionals in each student's respective field of study.
HAQUES: Biola has stayed true to the fundamental tenets of the Christian faith and has not strayed away, as have many other universities that started like Biola but have lost their way and become secular in their thinking.
Which campaign project particularly excites you?

HAQUES: We are particularly excited about the Center for Science, Technology and Health. We believe that a major focus in the technology area has to be the discipline of applied computer science. It is important for all Biola graduates to take applied computer courses and be computer literate, as this will differentiate them in the marketplace and equip them to get better jobs and excel at them.
ANDREWSES: We're also excited about Biola's vision for the sciences. Biola is well poised to lead the discussion that God and science do not contradict each other, but rather, as Eric Metaxas stated recently in the Wall Street Journal, science increasingly makes the case for God. We look forward to Biola wanting to equip students to be leaders in the sciences with a distinct Christian worldview. Becky, being an RN, is particularly excited about Biola's vision for the science program's development. Technology is also an important part of many future careers across many fields, so this is an important addition to Biola's programs.
How has Biola personally equipped you to be a person of greater courage and conviction?

ANDREWSES: Biola has had a personal impact on us throughout the years as alumni, parents of alumni, and also as campaign cabinet members and as part of the Board of Trustees. Biola prepared us for our professions, gave us confidence, helped shape our character and mind, and had a significant impact in our spiritual development. It provided many opportunities for growth from classroom experiences, chapels and personal interactions with many professors and students. We would not be where we are today without Biola's influence in our lives.
Learn more about the campaign cabinet, including honorary co-chairs Roberta Green Ahmanson and Senator John Thune ('83): http://giving.biola.edu/campaign-recap/