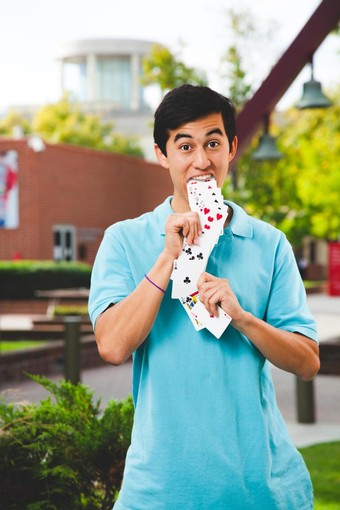 For Student Missionary Union (SMU) president Brady Lee, choosing to attend Biola was almost a no-brainer. When visiting his older brother, who also attended Biola, Lee recalled thinking, "The people here are so kind and Christ-centered." Needless to say, that experience left a huge impression on the now senior Christian ministries major — Biola was the only school he applied to.
Lee's involvement with SMU had a rather unconventional start. During Missions Conference his freshman year, the student-run organization needed actors to help in the "global awareness room" for Haiti. Lee, an illusionist since the age of 10, was able to fill the role of "witch doctor," making objects levitate and doing other magic tricks. The following year was when Lee attended an SMU event to hear previous missions teams share their testimonies, and to say he was "moved" would be putting it lightly.
"I was so rocked," he said. "I thought, 'God is doing amazing things in the world and I want to be a part of it.'"
The rest is history. Lee went on two mission trips to India and is now president of SMU, holding a vision of loving others at home and abroad. Lee's work and experiences with SMU have made a profound impact on him, and he hopes to share that with his staff and those around him.
"One of the core values that I want to instill in my staff this year is a love for people," he said. "You know, really reaching out and loving students and people. Overall, we have passionate students whose hearts are for the Great Commission, and God is working powerfully."