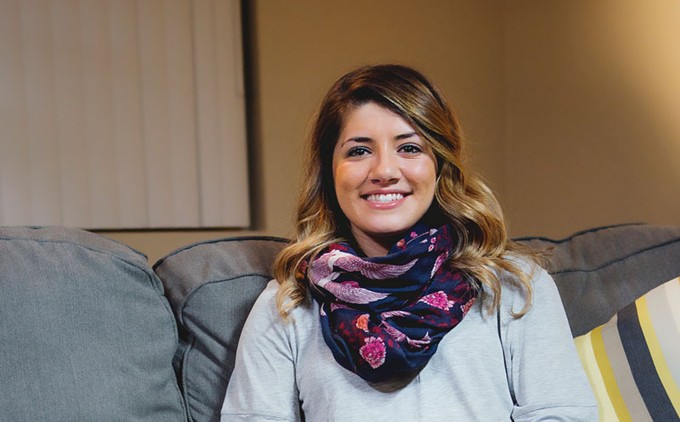 As a publicist in the film industry, Amy Ortega ('12) is convinced that no one but God could have scripted her unlikely journey.
Ortega arrived at Biola not knowing what she should major in — and, in fact, not really even knowing what a major was. On the suggestion of her counselor, she dove into public relations and started writing for The Chimes. Then, during the summer of her sophomore year, she unexpectedly landed an internship at La Opinión, the nation's largest Spanish-language newspaper, where she developed a love for covering the entertainment industry.
One internship soon led to another — each a little more challenging and seemingly out of reach than the next. By the time she graduated, she had experience across the media spectrum: newspapers, her favorite radio station, a major record label and a film studio.
Today, she's a publicity coordinator at the first major Latino Hollywood studio, Pantelion Films, a joint venture of Lionsgate Films and Grupo Televisa that's responsible for such films as 2014's Cesar Chavez. In her role, she juggles a wide range of responsibilities, including reaching out to the media, handling press junkets, coordinating with talent and supporting movie premieres. It's demanding work, but it's fulfilling, she said.
"I really enjoy working on films that touch people's hearts and are meaningful," she said. "Great stories that will emotionally impact people in an inspirational way." Working in the cutthroat, highly secular industry gives her the opportunity to develop friendships with people who may not know other Christians.\

"I didn't want to work in a Christian bubble," she said, "because who else is going to tell them but us? Who else but us is going to be the hem on the cloak that people can touch and [experience] a little bit of Jesus?"
Ortega credits her Biola education with giving her the foundation needed to remain firm in her faith. Many places can teach the academic and technical skills needed to succeed in the PR industry, and Biola certainly did, she said. But Biola also taught her how to discern right from wrong in the real world, and to have her mind saturated with Scripture, she said.
"People ask me if Biola was worth it," Ortega said. "If I was given a full ride at [a more prestigious school], I don't think I would have gone [there], because Biola gives you an education that's priceless. I'll probably be paying for it for a long time, but it doesn't hurt me to pay for it. ... I don't think I would be as strong of a Christian in the film industry and be able to be as steadfast in my faith if it wasn't for everything — every struggle, every high and every low — that I went through at Biola."