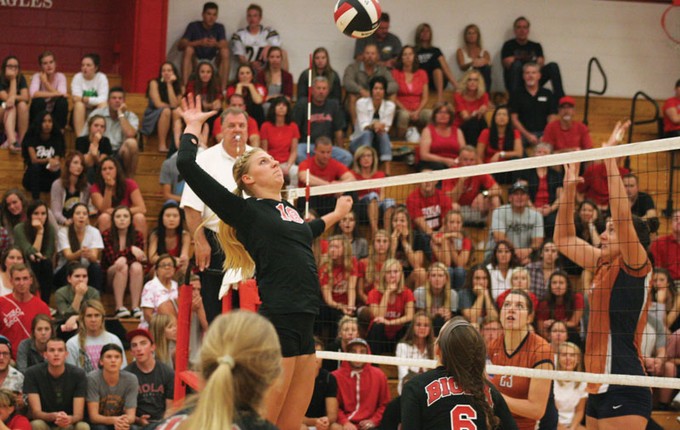 Amy Weststeyn is known for going vertical for Biola on the volleyball court, and in December she reached a new all-time high for the university's program.
Days after her team finished in the top four at the national championships in Iowa, the senior journalism major capped off a record-setting career by earning the title of the NAIA National Player of the Year from the American Volleyball Coaches Association — the first time a Biola player has received the national honor.
"It's hard to believe still. Every time I think about it, it hits me all over again," Weststeyn said. "I am extremely honored. This is a testament to what the Lord has blessed me with, because I definitely didn't do any of this on my own."
Weststeyn closed out her four seasons at Biola with her best one yet, leading the NAIA in hitting percentage (.433) and finishing in the top five in kills (490). She was the team's go-to attacking threat throughout a deep postseason run, earning all-tournament honors for the fourth time in her career while leading Biola to a 32–5 final record and its sixth third-place national finish.
The senior middle blocker earned her fourth NAIA All-American honor and added this prestigious award to her NAIA Freshman of the Year honor from the 2010 season. She ended her collegiate career at or near the top of just about every statistical category that applies to a middle blocker, including kills (1,451), hitting percentage (.396), points (1,888) and blocks (340 total).
The national honor comes on the heels of a season that saw her set career-high numbers in kills, service aces, assists, digs, blocks and points.
"Amy embodies everything you want in a volleyball player at Biola," said head coach Aaron Seltzer. "She is a great player, but more than that, she is a great person. She is competitive, loves Jesus and really loves other people."
Weststeyn's work ethic and determination to succeed is bound in her desire to glorify God and lift up her teammates in any aspect of the game or outside of the game, teammates said.
"Amy is one of the most passionate women I have ever known. She does everything full- force in the most God-honoring way," said fellow senior Jaci Schork. "She never shows even an ounce of laziness or lack of competitiveness. She works so incredibly hard and is so driven to do well and enjoy it."
What makes Weststeyn such a strong leader is that she does not put that desire to succeed ahead of the importance of forging deep, personal relationships with her teammates, coaches and officials, teammates said. She also does not let her goals in volleyball distract her from her academic goals and achievements; she is a three-time Capital One/CoSIDA Academic All-American and two-time NAIA-Daktronics Scholar-Athlete.
She's spent the last three seasons growing as an individual, and she got to spend this, her senior season, investing in those around her as a decisive, competent team captain and leader.
"I could not have asked for a better coach, a better program or a better group of girls to play with," Weststeyn said. "I've been able to come to Biola and play volleyball for four years. It has been the biggest blessing in my life. I've never had so much fun."