Hello friends,
I hope you are all doing well in quarantine but if you aren't that's okay too! I pray that you guys are finding your own rhythm/system that works best for you in this season. I know for me I am taking it one day at a time and giving myself a whole lot of grace through it all.
Today I am sharing my top 10 dorm must-haves! Before moving into my dorm, I spent a lot of my summer looking at Youtube Videos and Pinterest Lists on what I needed for dorm life. After my first two years in a dorm, I realized I did not need a lot of the stuff they convinced me I needed. But I wanted to make this list of things that have been life-changing for me while living in a dorm.
Wrinkle Spray/Steamer
As soon as I knew I was writing this blog, I knew a wrinkle spray and steamer would be at the top of my list. The wrinkle spray gets rid of wrinkles in seconds, while the steamer uses boiled water and can be used on more expensive or delicate items to loosen the wrinkles in the fabric. I own both a steamer and wrinkle release spray. I try to plan out my outfits the night before so that is when I tend to use my steamer, but when I am picking out my outfit more last minute the wrinkle spray is extremely convenient. Some of the sprays also include a scent booster, which is always an added bonus.
2. Personal Trash can
Each of your dorm rooms will already come with a trash can, but I have always brought my own personal trash can. I typically kept one under my desk at home so I knew how much I would need my own in college. Trash can easily fill up in a dorm room, so it's good to have an extra trash can to avoid too many trips to the big dumpsters.
3. Reusable water bottle
Having a reusable water bottle is key for college! Not only are you being more eco-friendly but you are also saving money. You don't need to buy a bunch of plastic water bottles that just end up taking up so much room. With a Hydroflask or any other reusable water bottle, you will save space and keep your water cold during hot days in La Mirada. Reusable water bottles are also super sturdy and easy to just throw in your backpack for on-the-go studying. You can also customize your own with stickers to express yourself!
4. Business professional + business casual clothes
This is something no one ever told me on any Youtube video or Pinterest list I ever found. No matter your major, some classes will require business casual or even business professional attire for a presentation. My freshmen year I had to go out and buy a blazer and some nicer pants. Don't forget to bring nice shoes as well! For girls, I always recommend a wedge shoe or a short heel. Having these things on you when you get to college will be such a stress reliever when your professor announces the requirements for a given presentation. Another plus is if you have an interview on or off campus, you will be prepared with the correct attire.
5. Utensil kit and bowls
I always recommend everyone bring a utensil kit as well as a cup, bowl, and plate when dorming at college. These are always helpful to have on hand. Especially in the dorms, people are always making food and typically willing to share. The only thing you might need to bring is your own bowl. This happens more than you think!
I also use a cup to keep my toothbrush in that doubles as a mouth-washing cup. The utensil kits are also convenient to have in your backpack in case you don't want to use the plastic ones at our cafes on campus. You can find plenty of matching culinary or utensil kits at Target or on Amazon.
6. Surge-protector power strip
Biola asks for students to use surge-protector power strips and they are super helpful. I bought one at Bed, Bath, and Beyond and I even use it at home when I am not at Biola. For me, I love having one that allows for USB chords to be plugged in directly. My strip also has an on and off switch so I can even save energy when I am not using it without unplugging all the chords. Surge-protector power strips often have a super longer cord so you can plug a lot of things in. I kept mine plugged in under my bed but stretched it so it was right under my bed side table.
7. Familiar things
I know I can be anxious sometimes, so moving out of my house and into a new area made me nervous. But something that really helped my transition was bringing familiar things from home. Of course, it is really exciting buying new things for your dorm like decorations and bedding, but you are also experiencing so much newness that you want to have some sources of comfort to lean back on. Even bringing my old clothes made me feel more confident even though Biola was a completely new setting. Other examples of things I brought to college from my room at home was my stitch plush, my Sully pillow pet, my Disney pin board, and little pictures of my friends I kept on my desk at home.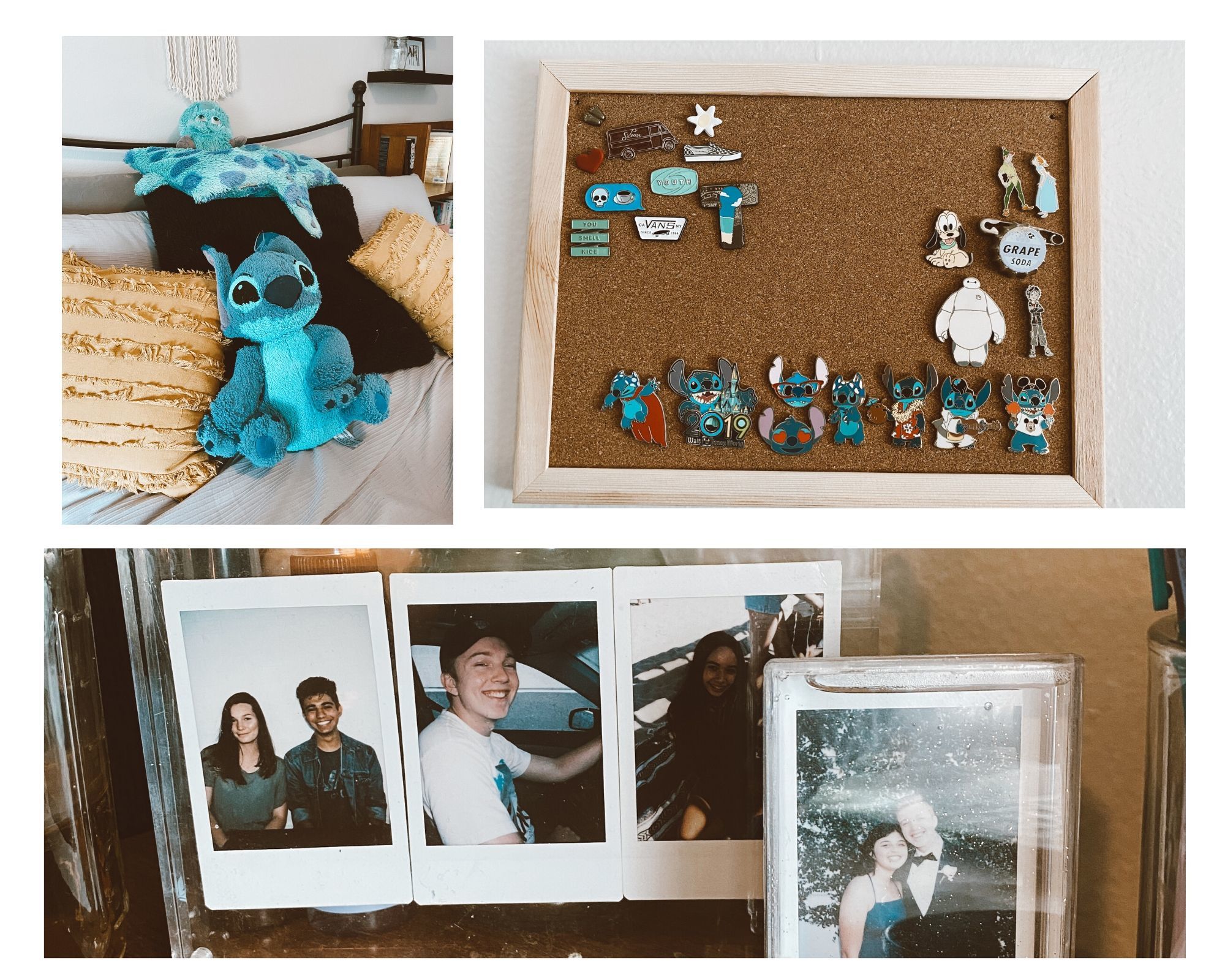 8. Extras of everything
This is something I wish I knew beforehand! So many times I would go to take a shower but realized that I had run out of shampoo or conditioner and did not have a back-up! Pretty quickly, I realized that I needed to buy extras. Every time I bought shampoo or conditioner, I bought two instead of one so that way I was always prepared with an extra. I recommend applying this to things like: printer ink, pens, pencil lead, hair ties, Post-it notes, or paper.
I realized I loved using Post-it notes and would buy like a 10 pack so I would never run out. These were convenient for writing notes to my roommate, writing down groceries, or setting myself reminders about homework. Another thing I did was buy my favorite pen in bulk on Amazon. It was about $6 for 50 of my favorite pens. I can safely say I never have to buy pens in college again. I also always kept my extra pens in a box so it was easy and convenient to keep them all in the same place.
9. Cleaning supplies
I do consider myself a clean and organized person, but life happens and things get messy. I even noticed that sometimes the corners of my desk would collect dust! I always had wet wipes and paper towels on hand to keep surfaces clean from dust and germs. I also am a bit clumsy and sometimes would spill my coffee, so I was always prepared to clean up the mess.
10. Mini fridge
This one is more optional but I have found it so helpful. Most mini fridges can fit under your bed and hold a lot of food. This was a super easy way for me to store refrigerated items like fruit and cheese sticks for snacks between classes!
There you go! These things have seriously changed my dorm life for the better. Hope these are helpful!
Blessings,
Bailey