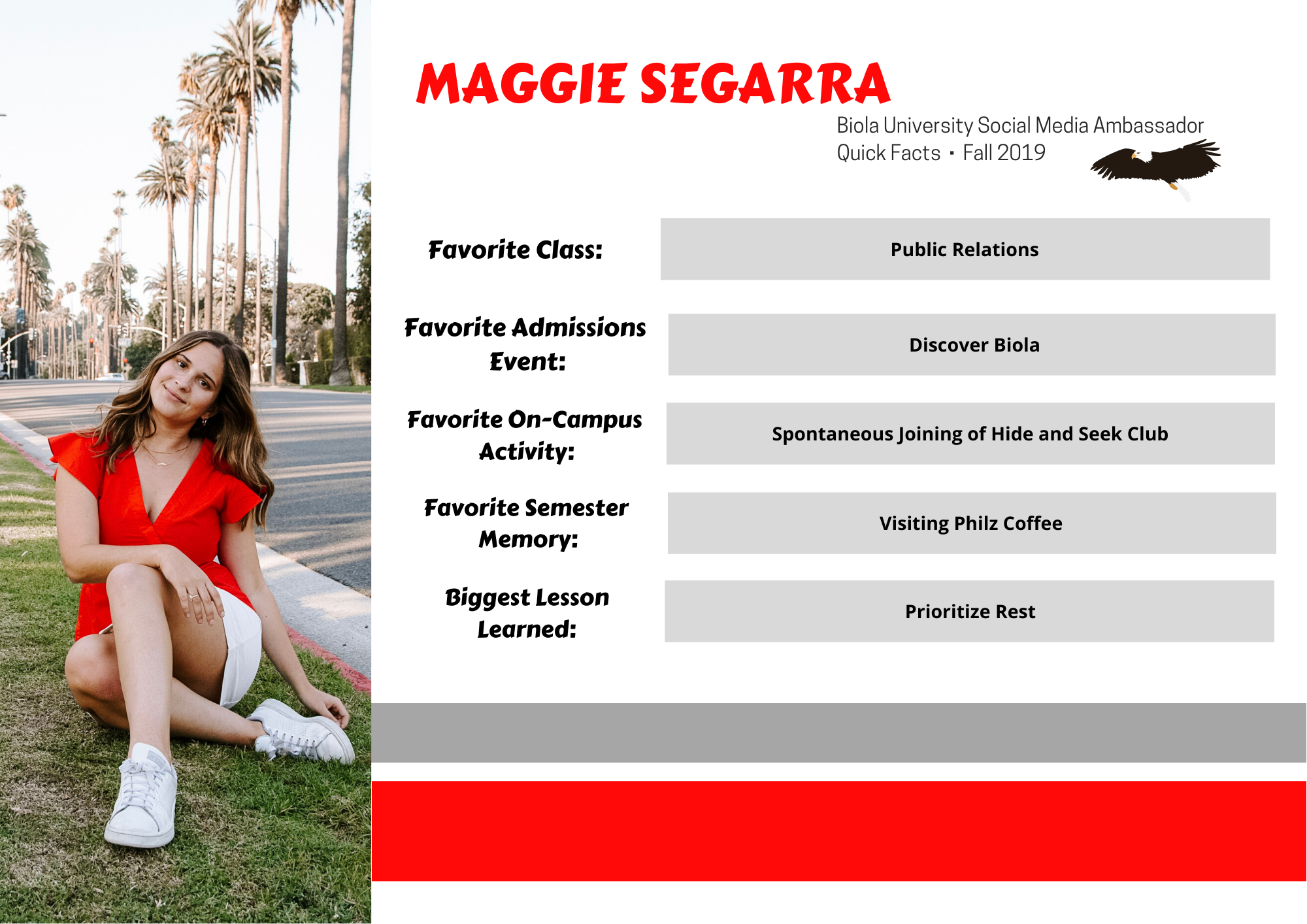 Favorite Class:

I have really enjoyed my Intro to Public Relations class with Professor Sinclair! Being a PR major, I have learned so many basics through this class. We also have gotten the opportunity to create our own client campaigns of our choice. This project especially has helped me see what it would be like to run an actual campaign in the PR industry.




Favorite Admissions Event:

So far, Discover Biola has been my favorite Admissions event. I loved being able to work the check-in station because I met so many new people! I loved hearing where everyone came from and what brought them to Biola! Discover Biola gives the perfect amount of time and information about the university without having to stay overnight for those students who would rather get everything done in one day.




Favorite On-Campus Activity:

One night, me and my friend accidentally joined a game of hide and seek with the Hide and Seek club - HAHA!!! I'm not officially apart of this club but it was super fun to join and see how inviting everyone was. Also, it's a great way to get your energy out if you are a night owl like me!



Favorite Semester Memory:

I've been to my fair share of coffee shops all aroud. But truly, Philz is where it's at. We don't have one back home in Florida, but it's probably for the better because I would be there way too much. it now has become a staple for me and my friends to go after church on Sundays - great way to start my week!



Biggest Lesson Learned:

Prioritize rest. God has really been showing me through the reading of the Old Testament that he takes the Sabbath very seriously. I, on the other hand, don't. But, you truly have to prioritize rest or else you will get burnt out. That is something I learned this semester and will be constantly reminding myself of it next semester as well.