Hope you all are having an amazing week! I just wanted to share with you how my experience has been moving out of state.
Ever since I was young I have been attending summer camps out of state for multiple weeks at a time. Though I was only away from home for a few weeks at a time, I would definitely say my experiences at camp encouraged me in knowing I could go to college out of state. In fact, ever since I was 13, I knew I wanted to attend college out of my home state of Florida. Honestly I never intended to go across the country, it just ended up that way. I thought I would end up somewhere along the East Coast that would just be a short plane ride away. To my surprise I ended up on the West Coast - and I had only been here once before!
I am grateful to say that my transition was easier than most. I came about a week earlier than normal freshman because I am in the Torrey Honors program. We have about a week of Torreintation before regular freshman orientation starts. One of my big fears coming into college was that I was going to feel lonely. I was afraid that I wouldn't develop intentional friendships and that I would end up being a "loner." Writing that out now, I'm really disappointed that I had such a negative attitude coming in. Torrey's orientation truly set me up with a great friend base through the people I met in my cohort. It was so easy to get to know everyone through the ice breaker activities we played and by all the time we spent together. It ended up being way easier than I thought it would be to make friends in college. The truth is, everyone is coming in is wanting to form those relationships and make those connections. Believe it or not, we are all thrown into the same boat, and we all are experiencing something totally new. My tip would be remember to be friendly and don't be afraid to introduce yourself!


Outside of Torrientation I had such a fun time during SOS week! All the leaders for SOS were so approachable and genuinely wanted to make all of us new incoming freshmen feel as welcome as possible. There are so many events during SOS week and I would encourage everyone to go to them. It definitely can be tiring, but so worth it in the long run because you will meet so many new people that you might not just meet through your classes. Again, it's all about getting involved! The more involved you are, the easier it's going to be to ease into this new environment out of state. This was my game plan for coming in this freshman year, and I definitely can say it helped in making my transition from home to college much easier!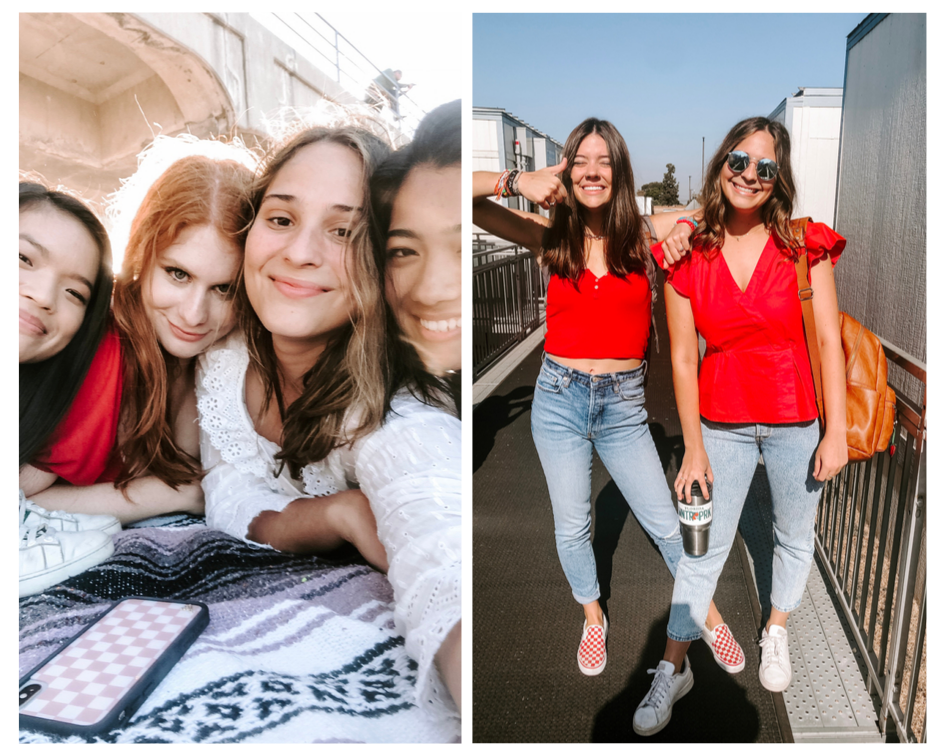 Besides just having to start over in making new friends, I had to adjust to a new state! Florida and California are so similar yet so different in so many ways. Starting off with similarities, both states have all the theme parks - Disney, Universal, etc. The theme parks are bigger (and better!) in Florida but it's not a big deal since I spend most of my time at school anyways. The weather is also pretty similar in climate, but California seems to have no humidity compared to back home. It's so much easier to enjoy the outdoors here because it is always beautiful outside! My friend and I try to go on at least one hike a month since it's so easy to find local hikes around here. Florida is flat and we don't have hikes so it has been a pleasant change since moving here. A not so pleasant change has been the price difference. The taxes in California are way higher than back home. In Florida, we don't have state tax and our sales tax is only 6.5%. I have had to be more conscientious about buying things here. Learning to save instead of spend has been a challenge, but one that I know will pay off later in life.
I would really encourage any new incoming students who are from out of state to make use of their time in this state. It's so easy to just always be on campus since everything you need is there. But, you would be missing out if you didn't go out and explore! I don't have a car this year, but there are always people willing and wanting to get off campus and discover SoCal. Another way would be to get involved with SPA events. Around two weeks ago I went on a beach camping trip. I didn't know anyone going in, but met so many new people through it! Not only did I make some more friends, but I was also able to see a new sight in California that I had never been to before. There are so many ways to get off campus and explore, you just have to make the effort to find them!
I hope after hearing this, you out-of-state prospective students are encouraged in knowing it's all gonna be okay! I wish I had someone tell me that when I knew I was going to be moving out of state. Transition isn't easy for everyone, but it is always an opportunity to grow and lean on the Lord. Accept the season that you are in and trust that God will get you through it. A verse that comes to mind is 1 Peter 5:7, "Cast all your anxieties on Him, because He cares for you." Whether you are coming to Biola or not, making the step from high school to college in general can seem like a daunting task. I would encourage you to express your worries and fears to Him because He can always give you peace that surpasses all understanding. There is so much more I could say, so if any of you reading this want to know more, feel free to reach out to me. I would love to chat with you more about my journey and all I have learned :)
Till next time,
Mags