So, we've talked about chapels at Biola..but what about conferences? Biola hosts two conferences every year that students are able to be a part of. In the fall we have our Torrey Conference, and in the spring we have our Missions Conference. Torrey conference is put together by faculty and students at Biola, while Missions conference is fully student run. Here is a quick rundown of the two, side by side:
Torrey Conference
Faculty AND student staff
3 days in the fall
Named after Biola's first dean, Reuben Archer Torrey
Missions Conference
All student staff
3 days in the spring
Focused on gaining a better understanding of God's heart for the nations
For three days every semester, Biola pushes pause on academic life so that students can instead use that time to learn from various speakers at our two conferences. During the three days of each conference, there are breakout sessions with speakers who focus on varying topics related to the theme of that conference. Students can pick and choose which sessions they want to attend. There is also worship led by both our student teams and guest leaders! In the past, we have had For All Seasons and Kings Kaleidoscope lead conference in main session worship.
Along with being able to attend conferences, students are able to be a part of putting them together as well! Last year, I was on the Missions Conference team! The theme at the time was: Luminous: the darkness has not overcome. Here is a little peek into my experience:
Biola's Missions Conference staff is divided into 5 different departments. I applied to be a part of their department called "Interactions", where we we were focused on figuring out how to connect the theme we were talking about in tangible ways to students! Every department has a different focus as to how they will contribute to the planning and crafting of the conference. We wanted to make Missions Conference an experience for all of your senses--bringing in ideas for food, music, decorations and more! Within the Interactions department, I was placed into a sub-department called "decorations". My team of 4 gals spent a couple of months leading up to missions conference visualizing how we could bring conference to life through crafty decorations.
So--last year the theme was Luminous. One of our ideas was to incorporate the aspect of light into a few of our decorations! For example, we did this along the library walkway at Biola, where we crafted and strung up clouds and light bulbs to represent light in the midst of darkness (disclaimer: originally the clouds were supposed to light up but we couldn't find a way to make that happen..BUT their white color still represented light!!). Another decoration we came up with was a photo booth board which was painted in ombre navy colors, we wrote the word Luminous in cursive using LED wire that lit up!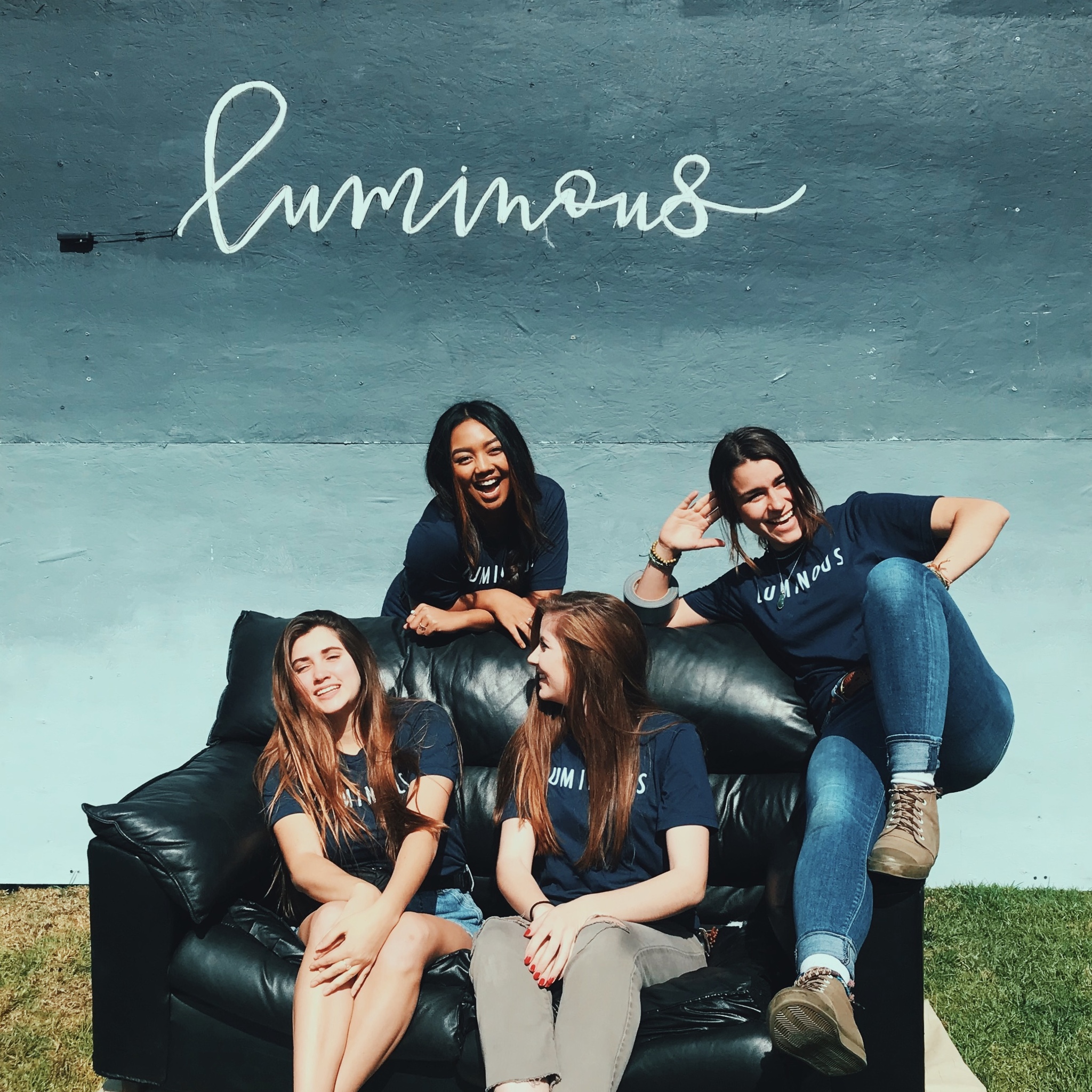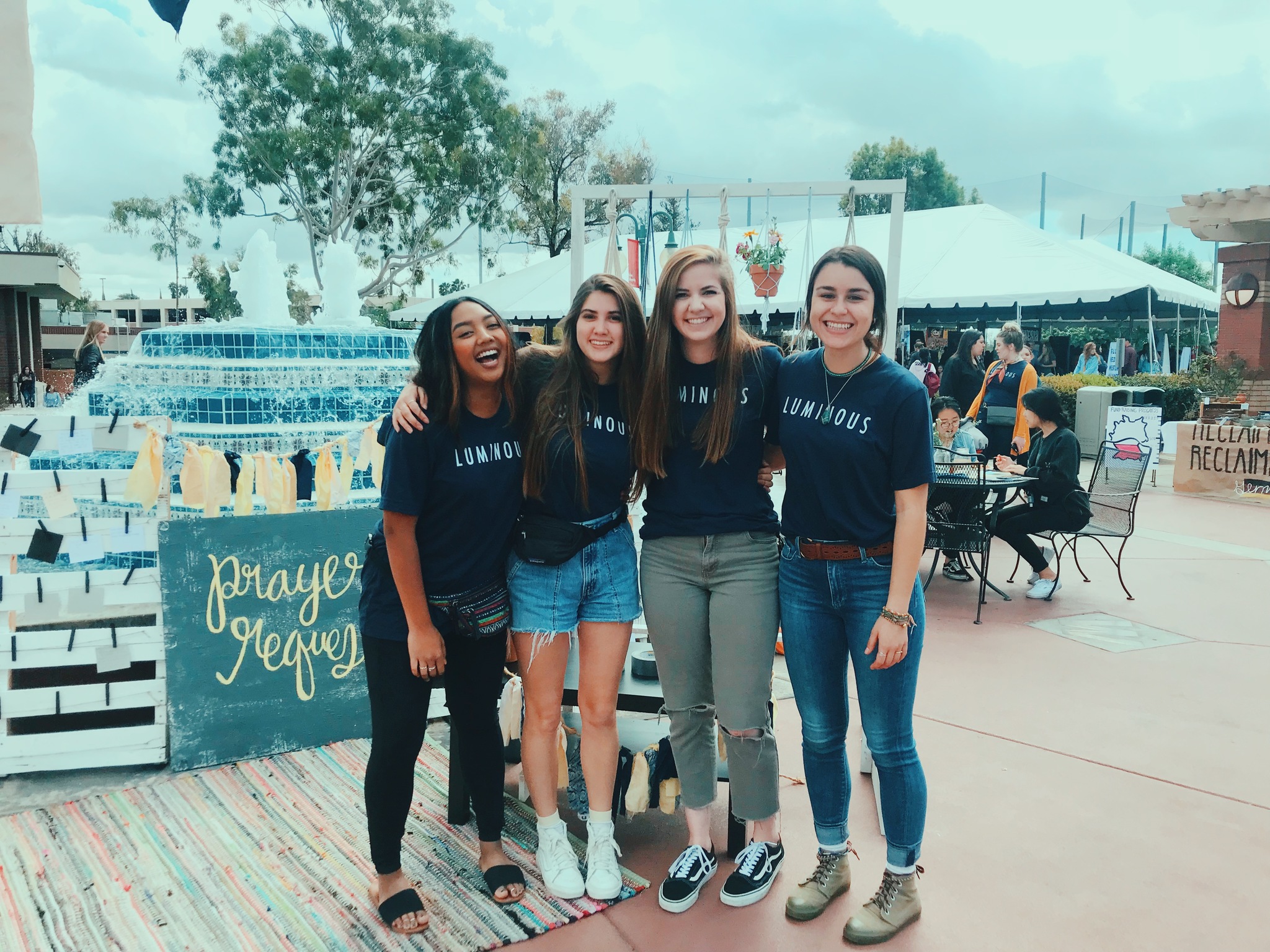 My favorite part of being on staff was the week that we got to bring our ideas to life. It was an exhausting week to say the least, but so very worth it. It was such a joy seeing students engage with what every department on staff had crafted, and it was humbling to see that although God doesn't need us to do His work, he chose us and invites us to partner with him because He loves us.
Hopefully these few words gets you as excited for conference as I am! If you have any questions about being on staff or even about the experience in general, I would love to chat more :)
Til' next blog,
Aubs