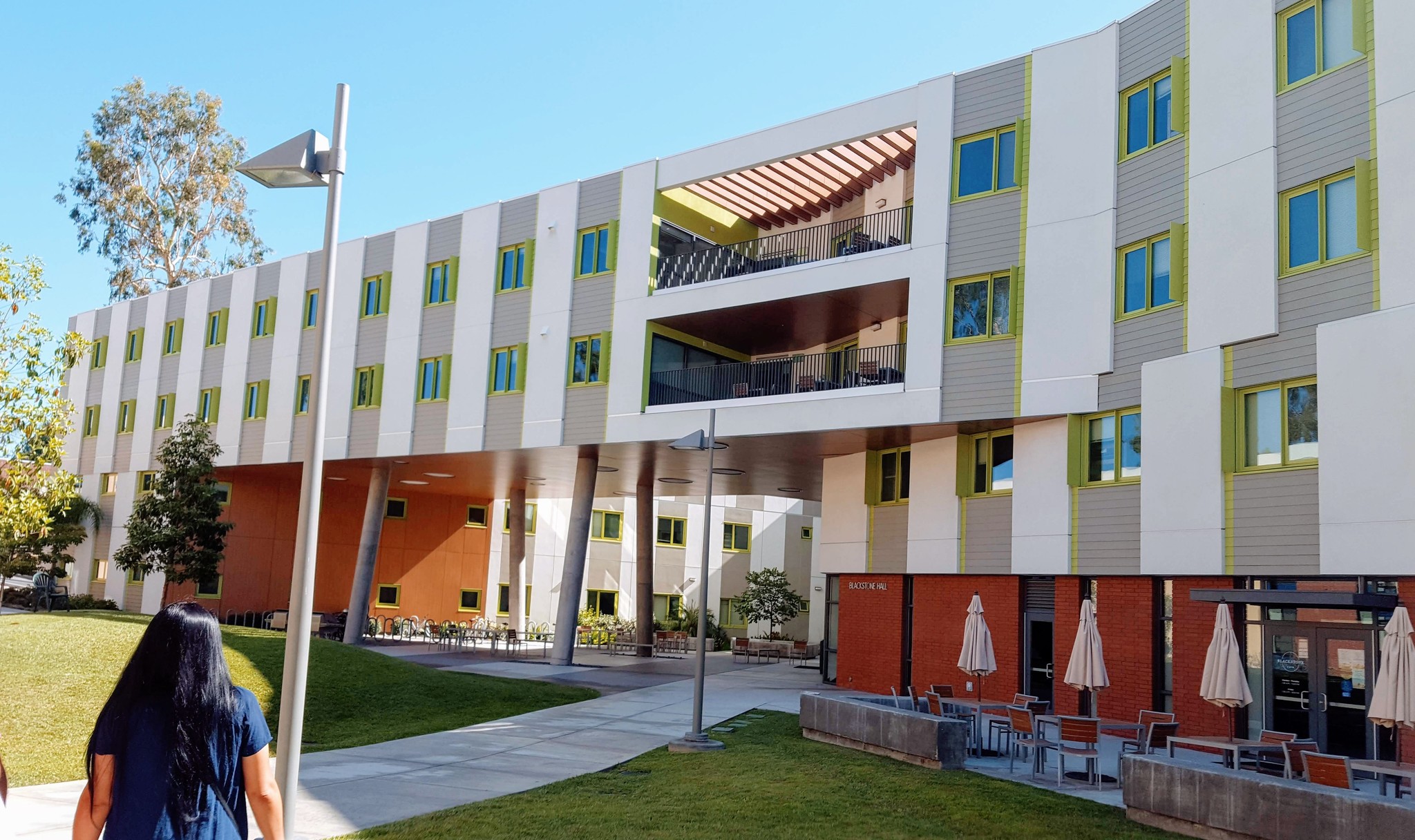 What is Blackstone?
Blackstone is a community that accompanies laughter, love, positivity, and family in addition to upholding the Biola core principles encouraging student academic success. As a freshman and first year student living in Blackstone, I have enjoyed every minute spent in this beautiful community and there's no place I'd rather be. Personal feelings aside, Blackstone is in fact the newest dorm on Biola's campus, constructed in 2015 wand housing 320 local residents.
Moreover, Blackstone offers plenty of amenities, including a wash and dry room, lounges for social interaction, a multipurpose room, two patios, and a unique architectural design to exemplify the overall personality of the building. Blackstone is energy efficient and eco-friendly which makes the choice of green and white appropriate for its color scheme. With its own fully-functional bike rack and café, being farther from the center of campus isn't a significant let down whatsoever: it takes about 10 minutes to reach the center of campus (on foot). My motto when describing Blackstone is, "small rooms, big hearts." With a variety of different backgrounds, Blackstone is an inviting atmosphere and welcomes students to come together and experience a home of unity and acceptance.
Who's in Charge?
Blackstone is run by the wonderful and ever-so organized Carlita Cartwright. Carlita's favorite color is Bahama Blue; her spirit animal is a dog because of how loving, kind, and joyful they are who enrich the lives of people who encounter them. Carlita enjoys being in a dorm such as this one who loves how diverse and unique Blackstone really is.
Her favorite part of being a Resident Director (RD) is the conversations she gets to have with her Resident Advisors (RA's) whether it be casual interaction or meeting one on one. Carlita believes, "transformation happens in the context of relationships and I so deeply enjoy moments where I can just have authentic relationships with students." She thanks all who have supported her and the people who have journeyed alongside her through college and the season she is in right now. Carlita is a friendly face of Blackstone so feel free to say hi when you see her!

Our resident director cannot do this job alone so she works with and alongside the resident advisors of each floor designated by gender. These R.A.s are trained to better equip students to impact the community positively for the Lord Jesus Christ. Community is built on relationships and bonding; these wonderful R.A.s create and cultivate those bonds to better foster a atmosphere of joy.
These wonderful people are the floor mentors, leaders, and role models for the residents/students who look to them for guidance and support. Intermittently placed throughout the four floors of Blackstone, they are friends to all who fellowship with them. The Blackstone community wouldn't be what it is today without this phenomenal team of Resident Advisors lead by our amazing Resident Director.
This dorm stands out among the rest but whether or not you call Blackstone home, you have a community to do life with fellow students who are going to lift you up in this safe space we call home away from home.
Blackstone: small rooms, big hearts.