What does it mean to be local? To me, a local is the title you might give someone who inhabits a certain area. They have made themselves at home, they know the short cuts, the in's and out's— they're a native. I, for example, am a local to Orange County! My hometown is just a 30 minute drive down the 91 East. I can tell you all the good places to eat, and the best places to park to get a free glimpse of the Disneyland fireworks.
My Experience
Something fun about being a local in the area is that I have still been able to stay connected with my community back home. I have the little joys of still staying in touch with my friends who are in high school, as well as the ability to drive to my mom for a home cooked meal whenever I want.
Something new to me when I came to Biola was meeting so many people from other states and countries. One of my greatest joys has been the ability to point people in the right direction when they're looking for somewhere fun to go (blog post on that one coming in the future)! But..what does it look like to be a local at Biola?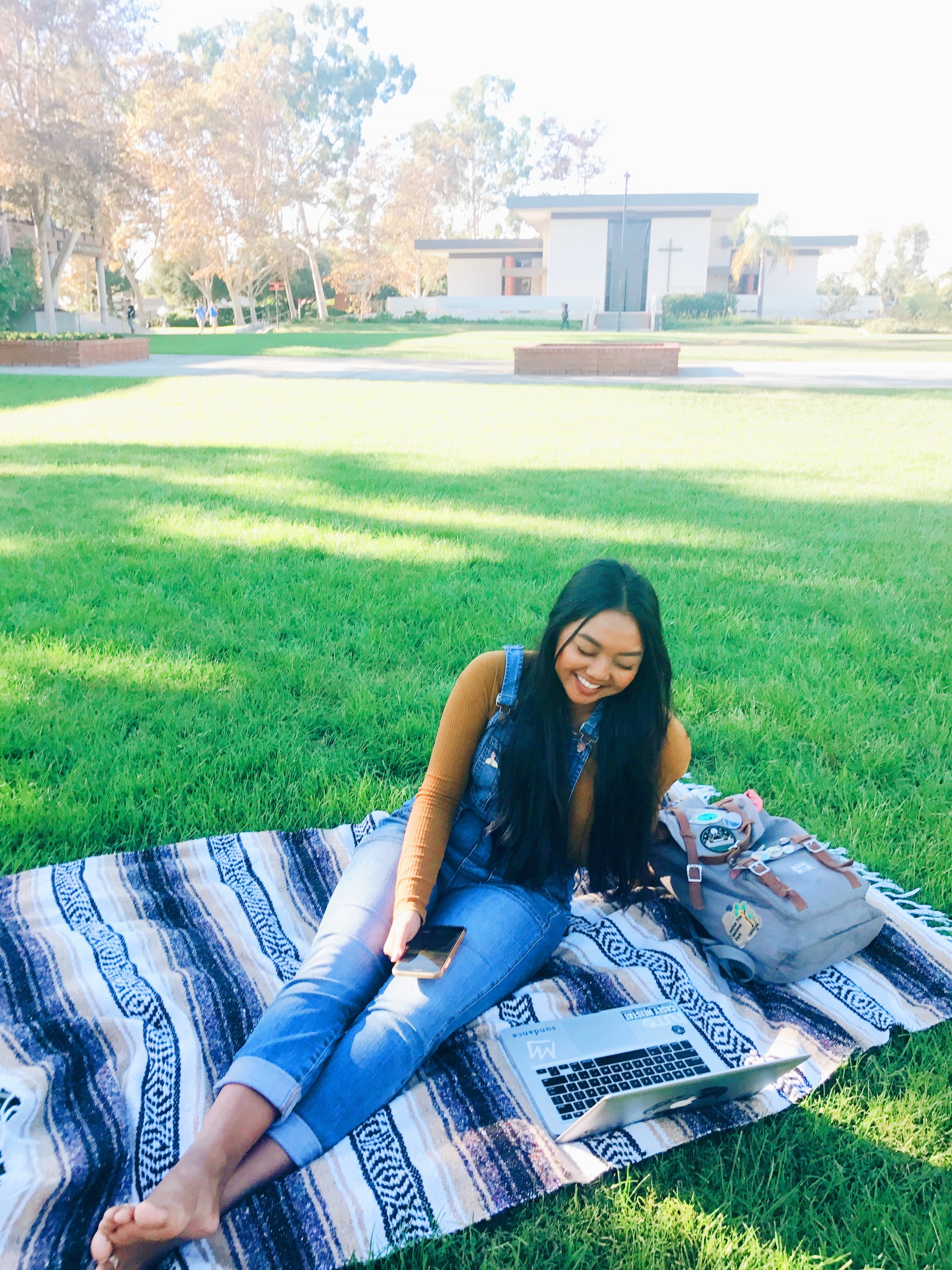 Being A Local at Biola
The transition into college is most definitely a process. I will promise you, however, that you'll get into the groove of things with time. Slow and steady! However, consider this a small cheat sheet to life as a local at Biola.
Slang
The Caf: The Cafeteria. Serves food from Bon Appetit, Biola's choice caterer. The place that most students use their meal swipes at.
The Lib: The Library. Full of great resources such as commentaries, periodicals, news articles, DVD's, desktop computers and more. Central hub for getting homework done.
Downtown Biola or Commons: Okay, maybe this one is just me, but I like to call the area where Biola's "Common Grounds" cafe is located, "Downtown Biola". A good place for casual hangs and also a place to do homework if you don't mind getting stopped by everyone you know at Biola. It's centrally located, and has got lots of passers by.
Singspo: Biola's Sunday night Singspiration chapel. An hour of worship through music.
Campo: Campus Safety. Biola's security team.
DBC: Dr. Barry Corey. The president of Biola
Lifestyle
Third floor of the lib: Usually where you'll go if you don't mind a little bit of chatter in the background. Arguably the floor with the most noise.
First floor of the lib: Where you'll go if you gotta get stuff done, maybe are on a time crunch with an 11:59pm deadline.
Tokyo Town: HAPPY HOUR. ALL DAY. MONDAY-THURSDAY. This little gem is a 2 minute drive or maybe a 7 minute walk from campus. Their happy hour menu is all day on Monday-Thursdays. You can get a sushi roll for, like, $5. If you don't love the Caf menu, this is the place to be. Also, the chance that you'll walk in and see more Biola people is very likely.
Hydroflasks: Most Biolan's are either carrying around some form of a Hydroflask or a Nalgene. As I like to say, Hydrate or Dydrate (okay, actually though it's important to stay hydrated!!!)
Disneyland: This amusement park is only a 15 minute drive away from campus! I have found that more often than not, whenever I go to Disney I will run into at least one other Biolan every time. Sometimes it feels like Biola 2.0.
So, life as a local at Biola looks a little bit like all of these things! Keep in mind, saying these things and going to these places is not what equals being a Biolan--you might get here and realize that you're not the biggest Tokyo Town fan! Or, maybe you'd rather call it "The Library" instead of "The Lib". You don't have to be a fan and you don't have to use all that slang! These are just a few of the trending words and lifestyle choices of Biola locals. :)
Til' next time!
Aubs