Clinical Laboratory Technologist
Clinical laboratory technologists, also referred to as "clinical laboratory scientists" or sometimes "medical technologists", are key members of most modern medical laboratories. Clinical laboratory testing plays a very important role in the detection, diagnosis, and treatment of disease. Clinical laboratory technologists, or the laboratory technicians reporting to them, perform most of these tests.
A modern clinical laboratory is tasked with examining and analyzing body fluids and cells, as an important part of the overall team approach to patient care. Clinical laboratory scientists perform a variety of complex chemical, biological, microscopic, immunologic, hematological, and bacteriological tests. They also perform blood matching for transfusions and prepare specimens for pathological examination. In the course of their work, they utilize sophisticated equipment and computerized instruments capable of running a large number of tests at the same time. The employment outlook for clinical laboratory technologists is very promising. The U.S. Dept. of Labor (Bureau of Labor Statistics) states that: "Rapid job growth and excellent job opportunities are expected. Most (clinical laboratory technologist) jobs will continue to be in hospitals, but employment will grow faster in other settings. Employment of clinical laboratory workers is expected to grow 14 percent between 2006 and 2016, faster than the average for all occupations. The volume of laboratory tests continues to increase with both population growth and the development of new types of tests."
Biola offers an excellent educational foundation, and individualized advising/preparation, for any student interested in becoming a clinical laboratory technologist. The two Biola majors most suited for students interested in a future career in the laboratory science field are the:
Biochemistry (BS) major, and the
Biological Sciences (BS) major
Either major will provide an excellent foundation for a future career as a clinical laboratory technologist. Regardless of which major/pathway, Biola's excellent science curricula and faculty equip each student with the knowledge base necessary for a future career in the health field. After receiving the baccalaureate degree from Biola, licensure to work as a clinical laboratory technologist requires approximately 12-18 months of training in post-baccalaureate clinical sciences program. These certificate programs require an undergraduate degree in the sciences and specific undergraduate prerequisites (most of which are part of the Biochemistry and Biological Sciences curricula at Biola), and are housed in academic centers throughout the country.
Science instruction and teaching at Biola is always implemented in the context of the sovereignty of God, and as a tool to further explore and appreciate His creation. A distinctive of the pre-clinical science program at Biola University is that it offers excellent preparation for post-graduate studies as an integrated part of the much larger on-campus Christian community.
Every pre-clinical science student has access to personal advising from BOHPA, the Biola Office of Health Professions Advising. Specifically, every pre-clinical science student has the opportunity for multiple advising appointments with the chief advisor (an MD degree graduate from the UCLA school of medicine) who has direct experience with the laboratory science field.
Biola has a wonderful peer-to-peer community for pre-health students in the Health Careers Club (HCC). The HCC provides opportunities for like-minded students to gather, fellowship, learn, and share the pre-health career journey together. Student officers of the HCC plan monthly activities and presentations directly related to the medical field. Speakers from various specialties are brought in to discuss their clinical work and topics in their field. Christian professionals and sponsoring missions organizations are also scheduled for students interested in short-term and long-term missions. Unlike some of the larger state schools, the Health Careers Club at Biola University ensures that no student has to undertake the challenging pre-health career journey alone.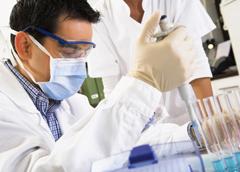 Recommended Majors
The Biola majors recommended (and ideally suited) for pre-clinical laboratory technologist students are:
Distinctives
Additional Career Info
To learn more about a career as a clinical laboratory technologist/scientist, click on the "Clinical Laboratory Technologist" link under the "Allied Health Professions" tab at www.explorehealthcareers.org