B.S. in Physical Education
School of Science, Technology and Health

Overview
Exercise and physical activity is vital to our health. But to make sure exercise is effective, safe and fun, we need well-trained experts who understand the science of the human body and how best to coach others. In Biola's physical education major, you'll gain extensive knowledge of health, nutrition, fitness and leadership, preparing you to teach, coach or lead sports-related ministries.
Concentrations
Teaching and Coaching

The teaching and coaching concentration prepares students to work in the fields of teaching, coaching, exercise science in schools, professional settings and sports-related ministries.
Why Choose Physical Education at Biola?
In addition to its strong curriculum, expert faculty members and biblical integration, Biola's physical education program offers several key advantages:
Biola's location in Southern California — one of the world's largest and most diverse metropolitan areas — is ideal for internships and job opportunities.
The university is home to top-notch athletics facilities, including a newly remodeled fitness center and athletic training room where students can put their education into action.
Small classes give you an opportunity to form deep relationships with your professors and fellow students.
Biola's Health Careers Club educates, supports and builds community among all the pre-health career students on campus through guest speakers and other events.
What Will I Study?
The physical education major promotes the value and understanding of physical activity and human performance for lifelong health and wellness. Coursework integrates theory and application with biblical principles and practice. Learning topics and highlights include:
Planning and implementing elementary school fitness activities
History of physical education and kinesiology
Developing and managing personal fitness programs
Understanding human performance principles
Functions of skeletal, muscular and nervous systems
Acute responses of neuromuscular and respiratory systems
Sports psychology in relation to rehabilitation strategies
Teaching physical education for the handicapped
Integration of faith and leadership
4.5 years
Standard Duration
This indicates the standard duration of this program. Completion time may vary by student depending on background and courseload.
128
Total Program Credits
Total program credits include a combination of major/concentration, Bible/theology and general education credits.
WSCUC
Accreditation
Biola University is accredited by the WASC Senior College and University Commission. Additional accreditations may apply to specific programs.
Career Paths
Many career options in areas like sports medicine, media, education, ministry or athletic training await future graduates of Biola's physical education program.You can expect to impact the world for Jesus Christ through professions such as:

Occupational therapist
Athletic trainer
Sports announcer or journalist
Physical education teacher
High school or college coach
Youth sports camp director
Chiropractor
Physical therapist
Secondary school teacher
Athletic scout
Nutritionist
Umpire or referee
What are Graduates Doing Now?
Biola physical education majors usually earn a teaching credential and work in public and private schools settings, or teach and coach in various recreation venues or full-time sports ministry positions. Many graduates from the physical education major have gone on to study at the following distinguished schools: Azusa Pacific University; University of Southern California; Chapman University; California State University, Fullerton; California State University, Long Beach; and California State University, Northridge.
Department of Kinesiology and Health Science (KHS)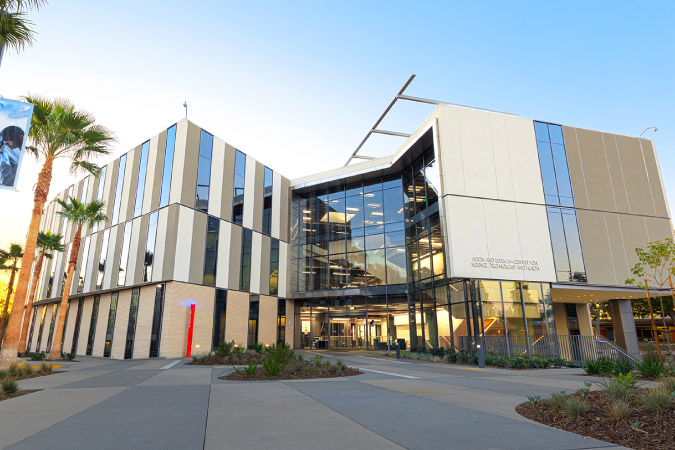 New State-of-the-Art Center for Students
The Alton and Lydia Lim Center for Science, Technology and Health offers students innovative laboratories, cutting edge equipment and research opportunities.


You may also be interested in