For information on Biola University's coronavirus (COVID-19) response and updates, visit
biola.edu/coronavirus
.
Parent Council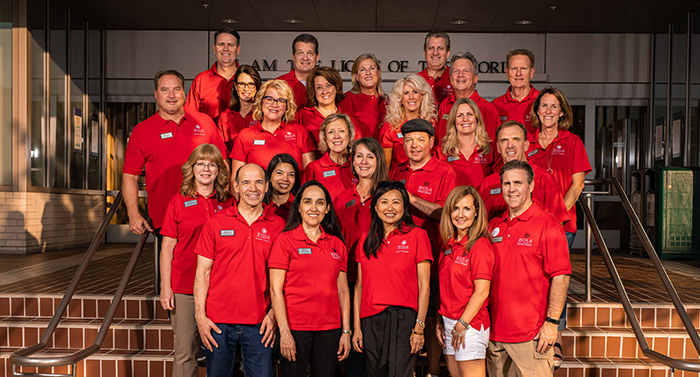 Overview
The Biola University Parent Council is here to serve you! They are available to foster communication between the University and parents in order to improve the quality of the Biola experience for all students and their parents. The Council meets three times each year to act as liaisons to the Administration, provide hospitality at University events and work with specific fund-raising campaigns. Yet their primary role is that of parents, feel free to contact them with any questions or concerns that you may have.
Members
Josh and Amy Burgess
— Fort Worth, TX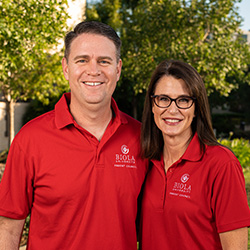 We always loved the idea of our kids going to Biola one day, but never thought it would actually happen. We feel so blessed to have our son there now, and our daughter considering it as well! Texas is a long way from California, but seeing our son thrive academically, spiritually and relationally there has been pure joy for us as parents.
Our son, Thomas, will be a sophomore at Biola in the fall. He is a Computer Science major and is part of the Torrey Honors Institute and the Stewart Science Honors program. He loved his freshman year and felt right at home from the beginning. We've enjoyed watching him grow in his faith, and form friendships we know will last a lifetime.
Our daughter, Grace, is entering her junior year in high school and Biola is her top choice. We look forward to many years of continued partnership with Biola.
We are happy to hop on a call and answer any questions you have.
John and Lorelei Coddington
— Upland, CA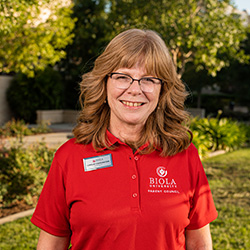 My husband, John (Talbot '95), and I ('88) live in Upland, CA, and this is the start of a new season for us as empty-nesters. This fall, all three of our children will be studying and living at Biola. Laurel ('20) is a fifth-year student and is double majoring in Music/Vocal Performance and Communication Sciences and Disorders. Nathan ('21) is a junior Torrey Honors student and is majoring in Chemistry with a math minor. Joel ('23) is a freshman Torrey Honors student majoring in Computer Science. Not only are my children at Biola, but I am also in my second year as an Associate Professor at Biola in the School of Education. I have the unique opportunity of seeing Biola up close as both a parent and a faculty member, and I am thrilled to be a part of Biola's mission. We can visibly see the significant impact Biola has had in shaping and molding our two older children. It has been exciting to observe them deepen and mature in their knowledge and understanding of the content of their majors as well as their knowledge and application of God's Word. Their younger brother can hardly wait to join them in the fall.
As we journey through this coming year, feel free to contact me with any questions or concerns. In particular, I welcome questions about the Torrey Honors Institute, Sciences, Music, and Education. I can also provide an understanding of faith integration and insight into the educational aspects of Biola. We have also navigated food allergies and experienced various issues around dorm life. I look forward to being a resource to you and a prayer support as we move through the year.
Fred and Pamela Green
— Snohomish, WA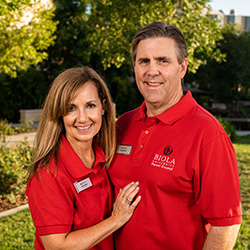 We are Fred and Pam Green from Snohomish, WA and have a daughter that just graduated from Biola's Nursing Program and a son that just finished his sophomore year in Commercial Music. Our daughter, Taylor was involved in the EMI ministry and their mission trips as well as The Spring Missions Conference where she held the job of coordinator her Junior year. She spent a summer in Israel volunteering at Shevet Achim a ministry she became aware of through Missions Conference. She married a fellow Biolan in January 2019 and they live in Buena Park as he finishes his Master's Program in Accounting at Biola. Our son Hunter played Lacrosse his freshman year, is a drummer for one of the chapel bands on campus, and is involved with EMI as well, and planning on leading 2 mission trips next year. He studied abroad last summer in Peru for a Spanish credit. Both of them have had wonderful experiences at Biola and have loved their time there. Fred and I would be happy to share or answer questions from any parent thinking of having their child attend Biola.
Marcia and Ed Harper
— Redmond, WA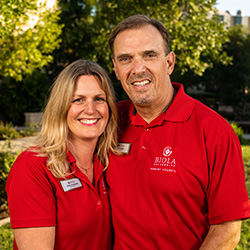 We are Ed and Marcia Harper from Redmond, WA. We currently have three Biola students- Bethany (senior), Nursing and Torrey Honors Institute; Katelyn (sophomore), Pre-nursing and Torrey Honors Institute and Kristen (sophomore), Christian Ministries. Our students are part of the Swim/Dive team. We have been part of the Biola family for 5 years. We have experienced trusting God with the financial commitment of Biola and encouraging our students to also trust and share in this commitment; the care and support of the Learning Center; challenges of mental health issues; students living far from home, transitioning from homeschooling in HS to college, and the exciting transition to NCAA D2 athletics. We would love to listen, support, and pray with you as part of the Biola family.
Please feel free to reach out to us regarding: Athletics, Torrey Honors Institute, Christian Ministries, Nursing, The Learning Center and accommodations, and navigating living out of state and staying connected to the Biola community.
Please feel free to contact us at harper.marcia.m@gmail.com
David and Kathy Juhn
— Issaquah, WA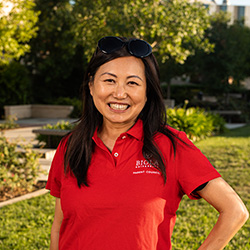 Greetings from Seattle, WA, we are parents to Karen who is a rising Sophomore majoring in Political Science. Karen's first year at Biola was blessed with leadership opportunities, traveling to San Francisco, DC, and a summer mission trip to Uganda. Her academic achievement exceeded to Dean's list. Wow, what an amazing first year!
Here's a glimpse of how Karen spent her first year at Biola. From first week of orientation, Biola provided variety range of opportunities to learn, to grow and to serve in the community. Karen participated in SMU (Student Mission Union) as a President's Intern, AEI (American Enterprise Institute) field coordinator, ISI (Intercollegiate Studies Institute) club member, Mock Rock (Men of Honor) *they won first place, SMU, and a summer mission trip to Uganda. In her free time, you could easily find her at Disneyland (season pass), hammocking, heading to the beach or escaping to lots of good places to read on campus as she enjoys good acai bowls.
As parents, it has been an absolute delight to see her personality blossom and to gain essential life skills during her first year in college, as she learns to lean on God and have more and more opportunities to understand God's mercy and grace. She has met some wonderful new friends who shares similar interests or is eager to share and understand their differences.
We are grateful to the faculty, staff, student organizations and everyone who has paved the path for students at Biola. If you ever spend time at Biola, you will experience the extraordinary love of God amongst everyone on campus. What a joy it is to be part of Biola Parent Council and we'd be delighted to be part of your journey at Biola. Please feel free to reach out to us. We'd love to eat, drink coffee or pray with you. We can also speak in Korean as both of us are bilingual. We look forward to meeting you!
Mike and Kristen McLaren
— Phoenix, AZ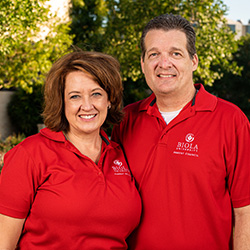 In 2018-19, our nest officially emptied as we had two Eagles at Biola! As a Biola Alumni (Kristen, class of '91), we couldn't have been more thrilled! Our daughter, Ryanne ('19), graduated with a degree in Piano Performance (Organ Minor) and loved being part of Torrey Honors Institute. She had amazing opportunities during her undergraduate years including participating in study programs/trips abroad to Italy, Ireland, and the UK. It was amazing to see her go from a freshman hesitant to leave home to a world-traveling academic! She will be attending the University of St. Andrews (Scotland) for graduate school. Our son, Seth ('22), is a Kinesiology major and enjoys singing in a choir and playing intramural soccer and softball. Both had to learn how to navigate challenges that come with living far from home, but it has been a blessing to see them grow in maturity and faith through both their struggles and successes! We love Biola and especially enjoy connecting with other families from out of state!
Feel free to contact us at AZkris10m@gmail.com
Daniel and Bernice Ramirez
— La Mirada, CA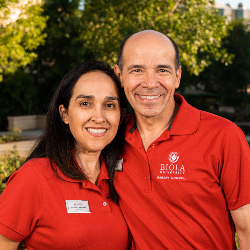 We are Dan and Bernice Ramirez and live in La Mirada about 5 minutes from Biola. Biola is a wonderful place to send your children for an education. Our son Danny is going to be a sophomore this coming fall. He is a Bible/Theological Studies major and is involved in the scuba diving club and Alpha Bible Study club. He has developed strong friendships with other students from Biola and just loves being on campus even when he doesn't have school. If he isn't home we know he is at Biola or out for coffee with a friend from Biola. We love these ties of his.
The professors at Biola are so caring and pour Godly wisdom and advice into the students. They have helped Danny during difficult times. We are so grateful to them. The campus is also safe and very well taken care of. My husband and I enjoy spending time on campus walking around the track, getting lunch at the caf or getting coffee at Common Grounds. We love Biola and hope to see Daniel's younger siblings attend there as well. Biola gives you a top-notch education in a safe, Godly environment.
We would be happy to assist your student in any way we can since we are local. We would love to pray with you and/or your student for direction and peace. We are here if you need us. Your student is welcome to come over anytime! And your welcome to call us for advice.
Rina Rojas
— Lincoln, CA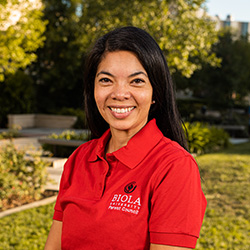 Hello, I'm Rina Rojas parent to Sarah Lopez, class of 2022. My daughter is a Cinema and Media Arts major and part of the Torrey Honor's Institute; she is also a student worker on campus.
Our family lives in Northern California and my favorite part of our Biola experience is the community feeling and how intentional everyone is about keeping parents involved in their children's education journey. In addition to being a Biola parent I'm also a Biola graduate student through their online program.
I am available to connect in person if you live in the greater Sacramento area or by phone. We can talk about anything that would encourage you and support your efforts as you walk through the higher education journey with your child. I also speak Spanish if that's your preferred language!
Fred and Jenn Schippa
— San Diego, CA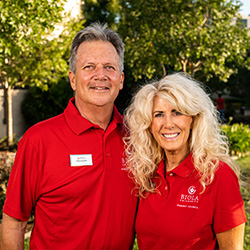 To begin, let us say "We love Biola!" From the moment we walked on campus in April of 2018, we knew Biola was and is a place where Jesus is Lord and God is exalted! Our twin Sons, Gabe & Brody agree. They began walking out their Biola journey in the fall of 2019 and have grown beautifully in the process, and in the Lord. Presently, both are Physics Majors, unless the Spirit leads differently. Both were accepted into the Torrey Honors program, but because their High School class had only 3 students, (they were called to pioneer a new Christian HS) they felt led to decline so as to consider a variety of classes. We have heard Torrey is a wonderful program, and definitely worth praying about for God's consideration. This is simply how our family was led and it has been a good decision. Our son Gabe, got a job on campus with Event Services which was such a great opportunity for him and filled much of his time when he wasn't studying. He and Brody also played Intramural Volleyball - both indoor and Beach - and had a blast! Brody quickly became a part of Student Orientation Services (SOS) and with this Team, became a part of the Biola legend of Mock Rock. It was very time consuming, and Brody said it was worth every minute of it! They both made the Dean's List even with these commitments and we are grateful for the balance Biola offers. More than anything, we appreciate the fact that the Authority of Biola is unequivocally, Jesus Christ. We love praying for all things Biola, and were led to be a part of the President's Circle to support in this way as well. We live in San Diego, and attend every Biola event we can, and they are always Spirit filled and awesome!
We also LOVE People, so please feel free to reach out to us at anytime. We are Fred & Jenn - and can be reached at jenn@schippa.us or 858.248.3717. God bless you all!
Nate and Heidi Smith
— Arcadia, CA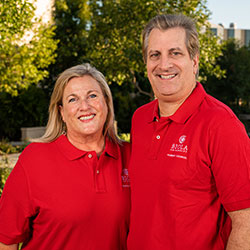 We are Nate and Heidi Smith, and our son Nathan is a Biblical Studies Major at Biola. Nathan describes admission to Biola as God "opening the big college door, fulfilling the desire of his heart." Nathan is 26 years old, and he and his younger brother Stephen graduated from Arcadia High School together in 2013. What many would say is impossible was made possible with God's intervention and the help of therapists, teachers, and peers. Nathan has autism and apraxia, which limit his initiation skills and his verbal output. In middle school, he typed that his goal was to attend Biola. Six years later, Nathan has completed the Bible minor requirements and is now embarking on the Biblical Studies major. Nathan lives at home with us in Arcadia and commutes to Biola two to three times a week. For the remainder of the week, Nathan takes general education classes at Pasadena City College. Nathan always has a shadow aid with him to assist him, and because all of Nathan's lectures are tape recorded for Heidi to transcribe, we as a family have been blessed by the biblical teaching Nathan has received in each Bible class. We are also grateful for the kindness of all who welcome Nathan and believe in his ability. This vote of confidence contributes immeasurably to Nathan's success. It may be that both of our sons will graduate again together in 2022, Nathan from Biola and Stephen from UCLA with a PhD in Statistics.
In the overflow of our gratitude, we would love to encourage you and your student. We look forward to meeting you, and if you have any questions for us, especially regarding the Learning Center accommodations for special needs, commuting, general education requirements taken at a Junior College, our email is hrsmith716@gmail.com. Heidi can also be reached at (626) 664-0595.
Randy and Elysia Sorley
— Yorba Linda, CA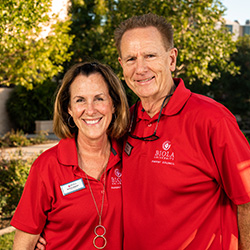 We are Randy and Elysia Sorley and are blessed parents of Joshua Sorley who will be entering his junior year at Biola University, majoring in business administration. In our two year tenure with Biola, we have observed our son mature in his relationship with the Lord, build a foundation of Godly relationships with fellow students and professors, and had the privilege of interacting with his friends, along with Biola staff, professors and administration personnel. We became more active during the second year by joining the parent council that broadened our perspective of this university and the necessity for parent involvement. Elysia and I are passionate about connecting with other families and students, through prayer and interaction, so students will discover the numerous resources Biola has available.
We would consider it a privilege to discuss any Biola University questions you may have regarding your child's experience, education or apprehension. Please contact us regarding Christian commitment, life experience, student and parent involvement or even financing. You will be blessed observing your students grow during the next four years.
Our email is randy@rcsinvestigations.com. We look forward to connecting with you soon!
David and Angela Toyer
— Tigard, OR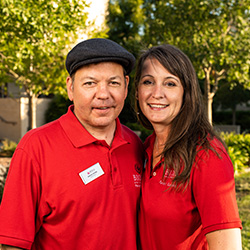 Having met at and graduated from Biola, we've always held a special place in our hearts for our Alma Mater. When we encouraged our first daughter Natalie (class of 2016, Studio Arts) to attend Biola, she was unsure, being a bit shy. But she absolutely flourished and loved her time there, so much so that she fell in love with Southern California and lives and works in Anaheim. Our 2nd daughter Erica (class of 2018, Communications) transferred into Biola and really appreciated the family atmosphere among the professors and students in the Communications Department. Our 3rd daughter Marenna will be a Senior in the Fall and is also experiencing the same family atmosphere as a Communications major.
Angela & I have been very actively involved with Biola for the past 15 years or so, serving as Alumni Regional Leaders for Oregon & Southwest Washington. We've hosted countless events, such as Admissions receptions for prospective students and their parents, student send-offs for outbound students from our region, and some fun events such as Blazers games. We love being closely connected to Biola, as its distinctive and unwavering stance for God's Word is refreshing and sorely needed in today's world. We are always happy to impart practical tips for other parents who are also so far away from campus—things such as travel (air, carpooling, etc.), what to do regarding bringing your student home for Thanksgiving, etc. You can reach us at alumni.portlandor@biola.edu.
Leigh Young
— Beaverton, OR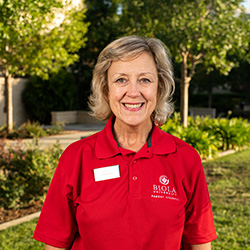 Hello from Beaverton Oregon (a Portland suburb)! I am Leigh Young, and my husband and I are the parents of two Biola graduates and one senior! Having children attend Biola for the past 10 years has been an incredible blessing for our family! Kate ('14) majored in nursing, and was the first to leave the nest. Ben ('16) entered as a freshman in the fall after Kate graduated. He majored in chemistry with a minor in physics. Their younger brother, Peter ('20) started in 2016 and is a computer science major.
Our 3 all have made lifelong friends at Biola. They all enjoyed campus activities, including serving in an outreach group to special needs children in the local community, intramural basketball, and Mock Rock. They lived in the dorms for 2-3 years and then off-campus with fellow students. Kate worked at Disneyland off and on during her time at Biola, while Ben was an RA, TA, and tutor during his years at Biola. Peter worked as a TA as well.
The Biola community is amazing, with Godly staff who care deeply about the students. We felt a sense of 'home' when we stepped on campus for the first time in 2008 to tour. I would love to have you contact me about being a parent of a student at Biola (preparing for the move south, travel, family weekend, housing, etc), college life, nursing, science at Biola, and finances. I don't claim to be an expert in any of it, but 10 years of having kiddos at Biola has given me a certain amount of knowledge.
Join Our Team
The purpose of the Parent Council is to foster communication between the University and parents in order to improve the quality of the university experience for Biola students and their parents. Council members will serve as liaisons, reflecting the views of the parents to the administration, and communicating with parents about the goals and plans of the University. Additionally, members will serve as representatives of the University to prospective students and their families to support the recruiting efforts of the University.
Service Opportunities:
Attend all Parent Council Meetings on campus at your own expense (three times a year, during Opening Weekend in August, Family Weekend in October and Grandparent's Day in April)
Attend Opening Weekend events and staff the Registration Booth each August on campus
Attend Family Weekend events each October on campus
Participate in the Spring Calling Campaign and call 10 parents of prospective students in your area (from your home)
How to apply:
Parents who have a love for God, an affinity for Biola and a desire to serve others are welcome to apply to the Parents Council. We ask that new parents wait one year before applying, to allow your student and yourself the time to settle in and learn about Biola. Applications and references are accepted January 1 to June 1 for the upcoming fall semester. In June, applicants with completed references will be notified to schedule a phone interview. A decision regarding acceptance on the council will be determined by July 1, following the phone interview.
Biola University Parent Council Application