For information on Biola University's coronavirus (COVID-19) response and updates, visit
biola.edu/coronavirus
.
Research Help
Ask Us!
Librarians are available to assist you with library research. Use our Ask Us service to search FAQs, chat with us, call, text, or submit your question to the library.
Research Consultations
Looking for research help? Book a research consultation with a librarian! Select a day and time that works for you, let us know more about your research questions, and your librarian will be prepared to help you with your research topic or question. Research consultations for online or distance education students are conducted over the phone or through video.
Research Guides
Use one of our research guides to get started on your research or to learn how to use a specific library product.
---
Finding Articles and eBooks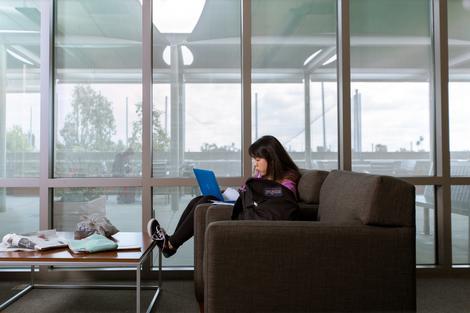 Research a Topic
To research a topic, use the search box on the library home page. The Everything tab allows you to search the majority of the library's collection. Results can be limited to online articles and ebooks. To limit search results to ebooks, click the "Source Types" limiter under the "Refine Results" heading and choose "eBooks." To find a specific library database or see a list of databases arranged by subject, use the Databases tab.
Find a Specific Book
To determine whether the library has a specific book (in print or online), search the Library Catalog using the title of the book.
Find a Specific Article
To find out if the library has the full text of a specific article, first determine the title of the periodical (magazine, journal, or newspaper) in which the article can be found. This is sometimes called the source of the article. Then use Journals A to Z to see if we have the periodical you need.
Off-Campus Access
To access the full text of electronic resources from off-campus, you will need to be authenticated as a currently enrolled Biola student or currently employed faculty or staff member. When you click on a link to an electronic source, you will be asked to enter your Biola NetID and password. Get help accessing resources off-campus.
---
Interlibrary Loan (ILL)

Articles and Book Chapters Unavailable Online
Articles and book chapters not available online through the Biola Library can be requested through our Interlibrary Loan service. A digital copy of the book chapter or article will be made available to you through your ILL Account.
Borrowing Printed Books
Full length printed books not available in the Biola Library can also be requested through Biola's ILL service, but the books must be picked up at the Biola Library.
If you do not live near the Biola Library, you can request printed books through a local library's ILL service and pick up the book at a library near you. See libraries.org for a directory of libraries in your area, and then inquire as to whether they have an ILL service.

---
Resources at Other Libraries
COVID-19 Update: Some libraries may be closed at this time.
The library participates in several reciprocal borrowing programs with other institutions in the United States and Canada. These agreements allow Biola members to physically use the collections and facilities of other libraries. Use the Reciprocal Agreements Chart to find a library near you and apply for access.