Library Makerspace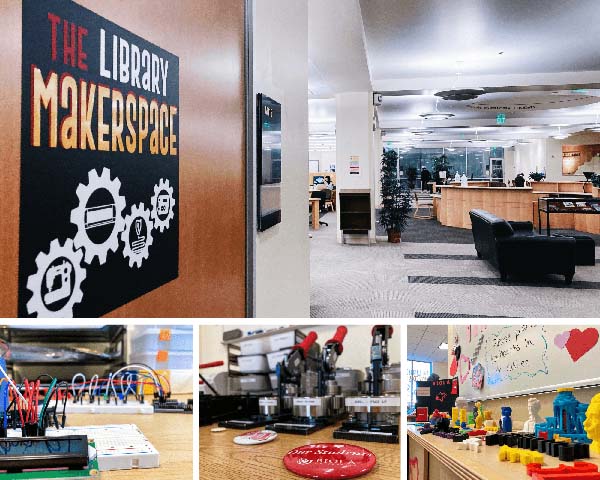 Mission
The mission of the Library Makerspace is to:
Provide a space for all members of the Biola community to receive training to tinker, experiment, design, build, learn, succeed, make mistakes in a judgment-free environment and have fun while doing it. Ideally, students will use the space to create imaginative projects and presentations supporting their curricular assignments.
Collaborate with Biola's STEM program/instructors to support classes and coursework and provide a place for STEM students to train and mentor others in solving life problems through engineering and the fabrication of valuable and imaginative projects.
Collaborate with the Biola Office of Innovation to support a user-oriented space that provides the appropriate tools and mechanisms for the making and fabricating of products, gadgets, materials, and software. To catalyze innovators and entrepreneurs to flourish in their giftedness and build Christ-honoring, world-changing ventures.
Location and Hours
Location
The Makerspace is located on the main level of the library across from the Information Desk.
Hours
Summer hours will vary from week to week, and will be posted on the Makerspace door.
Equipment Available for Use
3D Printers
Cricut Cutter/Plotter
Arduino Electronics
Sewing Machine
Button Makers
Cricut EasyPress
Laminator
Services Available
3D Printers: Create and print a 3D object or design a prototype.
Cricut Design: Create an image on your computer and print or cut it out of paper, vinyl, fabric, craft foam, sticker paper or another material.
Arduino Electronics: Set up an electronic board to prototype an experiment and activate motors, turn on LEDs or create wearable clothing.
Sewing: Design and sew a costume, make a statement book bag or even your own mask.
Workshops
The Makerspace does not have any workshops scheduled for this summer. Requests for individual/group training or special workshops may be sent to makerspace@biola.edu.
FAQs
Can anyone use the Makerspace?
At this time, only Biola students, staff, and faculty, may use the Makerspace. We hope to provide services for community members in the future.
How many people can use the Makerspace at one time?
The room can hold about 8-12 people comfortably.
Do I have to have experience to use the equipment?
Can I just walk into the Makerspace and start using the equipment?
You must always check in with a staff member before using the equipment. All first-time users will get a brief orientation.
Do I get to keep the projects I make?
Do I have to bring my own materials?
For most sewing projects and Arduino projects you create and wish to keep, you need to bring your own materials. Other materials may be available for a fee.
Do I have to make an appointment to use the Makerspace?
We do not take appointments, but we do offer workshops that require a reservation.