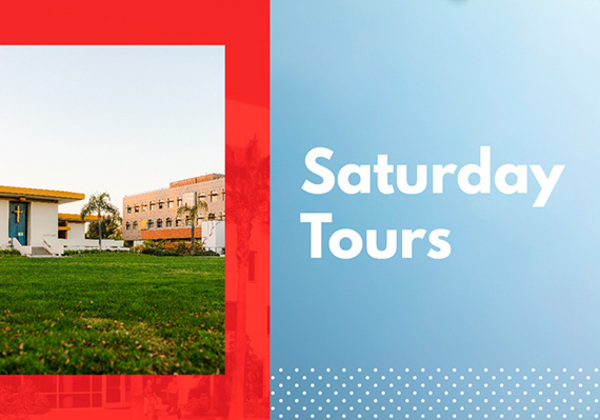 October Saturday Tour & Brunch
Cost and Admission
This is a paid event.
Registration for all Fall Saturday Tour Opportunities will open Monday, August 22nd.
If you are considering Biola University for your undergraduate admissions journey, but you're not quite sure where to begin, join us for a Saturday Tour! While on campus you will have the opportunity to take a campus tour, see inside one of our residence halls, join an admissions session, participate in a Q&A time and enjoy brunch in our Biola Cafe. Saturday Tours are a unique opportunity to get some of your questions answered and an introduction to the Biola Basics! You'll also have the opportunity to stop by our Biola Application Helpdesk. You can ask our admissions team any questions that you have about the Biola Application in real time and finalize your application in person in one of our computer labs!
Time
Event Session
9:30 a.m.-10 a.m.
Event Check In
10 a.m.-11:15 a.m.
Campus Tour
11:15a.m.-11:45a.m.
Biola Basics: Admissions 101 at Biola
11:45 a.m.-12 p.m.
Mini Bonus Tours
12 p.m.-1 p.m.
Brunch in the Biola Cafe
1-2 p.m.
Optional Production Center Tour

If you are planning to join us for this Saturday Tour and you are interested in film and our Cinema & Media Arts school, be sure to select this opportunity on your registration. You'll have the chance to see our start of the art equipment and facilities available to our film students.
Questions?
Contact Admissions Events at:
(562) 944-0351 Ext. 5353
admissions.events@biola.edu