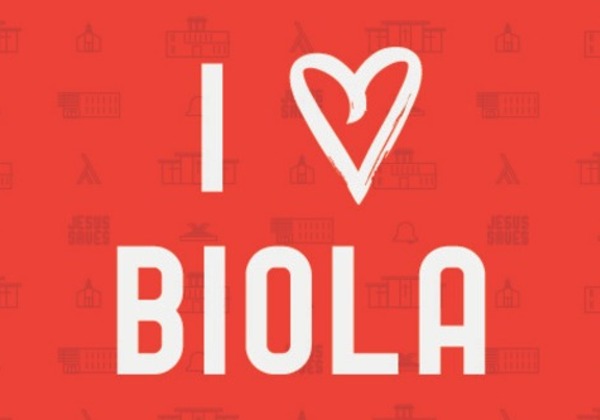 I Heart Biola Week
Show love for Biola's 114th Birthday!
Monday, February 21, 2022
10 a.m.–2 p.m. Pacific

Tuesday, February 22, 2022
10 a.m.–2 p.m. Pacific

Wednesday, February 23, 2022
10 a.m.–2 p.m. Pacific

Thursday, February 24, 2022
10 a.m.–2 p.m. Pacific

Friday, February 25, 2022
9:30 a.m.–1:30 p.m. Pacific

Various, On-Campus and Virtual
Hosted By: Alumni Relations, Student Alumni Association

Open to: Alumni, Staff, Students
Cost and Admission
This event is free to attend.
In partnership with the Alumni Engagement Office, the Student Alumni Association (SAA) is hosting the annual Biola Birthday spirit week: "I Heart Biola"!
Below are highlights for the week:
Monday, Feb. 21: Why We <3 Biola! Tell us what you love about Biola with a special note at the Fluor Fountain or show your love virtually.

Tuesday, Feb. 22: We <3 Biola Students & Alumni! Take a Break on us: recharge with some goodies, activities and a phone-charging station at the Fluor Fountain. For alumni activities, make sure to follow us on Instagram.

Wednesday, Feb. 23: We <3 Biola Staff & Faculty! Spread Biola love and write a letter of appreciation at Fluor Fountain.

Thursday, Feb. 24: Throwback Thursday! Look through 114 years of Biola history at the Library Courtyard.

Friday, Feb. 25: Biola's 114th Birthday! Alumni and families are invited to attend.

9:30 a.m. Chapel – Biola Hour at Sutherland Hall

10:30 a.m.–12 p.m. Wear red and join the party at the Fluor Fountain – cupcakes*, giveaways*, balloon animals, face-painting and a photo op with a special guest!

12 p.m. Optional: Lunch at the Caf (use your Alumni ID card to get a 10% discount), visit the Throwback Thursday exhibit in the Library, explore campus and the newly renovated Biola Store.
Mark your calendars and follow along all week on social media for updates and special giveaways!
Biola Alumni Instagram | Biola Alumni Facebook | Biola University Instagram | SAA Instagram
*While supplies last
Questions?
Contact Laura Fong at:
(562) 944-0351, ext: 5361
laura.fong@biola.edu