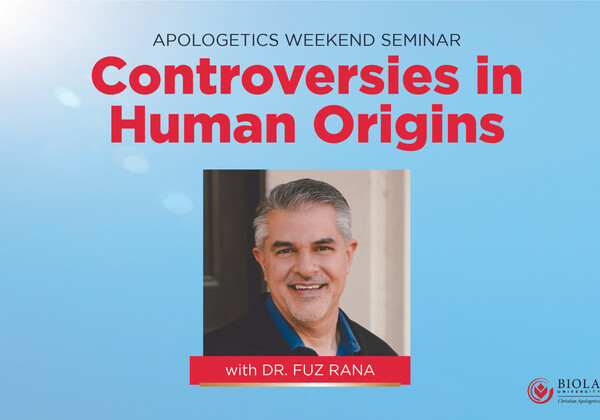 Controversies in Human Origins with Dr. Fuz Rana
Apologetics Weekend Seminar
Cost and Admission
This is a paid event.
| | |
| --- | --- |
| $95.00 | General Attendee |
| $65.00 | Student/Alumni |
This two-day seminar is an in-depth look at contemporary evangelical perspectives on human origins and the Bible. Dr. Fuz Rana will focus on the understanding of the nature and existence of a historical Adam in light of both biblical and scientific research, data, and interpretations. Don't miss out on the conversation this fall!
Schedule:
Friday, October 21 from 9 a.m. to 5 p.m.
Saturday, October 22 from 9 a.m. to 5 p.m.

Lunch Break from 12 p.m. - 1 p.m. both days
This seminar will not be live-streamed to the general public or to students not enrolled in the course.
Please note that this is not a conference but a two-day lecture/seminar open to the public.
Questions?
Contact Megan Clark at:
562.906.4570
conference.coordinator@biola.edu