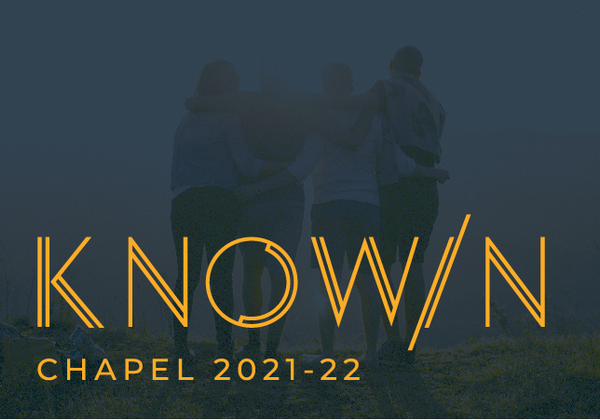 Known: What's in a Name? The Witness of Rhoda in Acts 12
Jennifer Powell McNutt
Monday, March 28, 2022
9:30–10:20 a.m. Pacific

Sutherland Auditorium
Hosted By: Spiritual Development

Open to: Alumni, Faculty, General Public, Parents, Staff, Students
Cost and Admission
This event is free to attend.
Join us in Know/n chapels where we will explore the truths found throughout scripture that we can know and are known by God, which opens us to communion with all He has created. (Eph. 1:17, I Cor. 13:12).
Speakers
Jennifer Powell McNutt
The Rev. Dr. Jennifer Powell McNutt (Ph.D., University of St. Andrews) holds the Franklins S. Dyrness Chair of Biblical and Theological Studies at Wheaton College. Her teaching and research focus on the history and theology of the Reformation and the Reformed tradition. She is an elected Fellow in the Royal Historical Society and Vice President of the Calvin Studies Society. She is the recipient of Wheaton's Leland Ryken Award for Teaching Excellence in the Humanities and the Frank S. and Elizabeth D. Brewer Prize awarded by the American Society of Church History for her first book, Calvin Meets Voltaire: The Clergy of Geneva in the Age of Enlightenment, 1685-1798 (Routledge, 2014). She and her husband, The Rev. Dr. David McNutt, are both ordained teaching elders in the Presbyterian church and run McNuttshell Ministries together. They have three lovely children.
Questions?
Contact:
(562) 903-4874
chapel@biola.edu