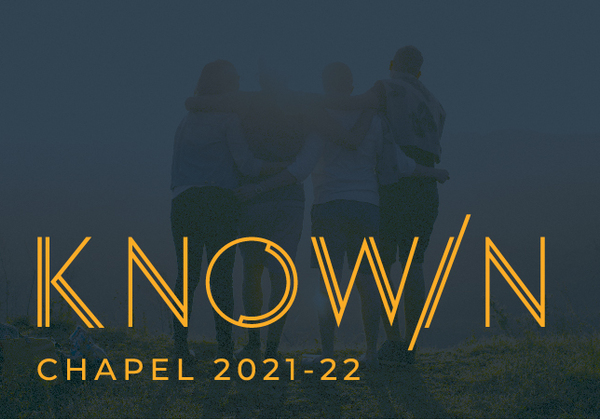 Known: In person & Livestream
Sarah Jenson
Monday, January 31, 2022
9:30–10:20 a.m. Pacific

Sutherland Auditorium
Hosted By: Spiritual Development

Open to: Alumni, Faculty, General Public, Parents, Staff, Students
Cost and Admission
This event is free to attend.
Join us in Know/n chapels where we will explore the truths found throughout scripture that we can know and are known by God, which opens us to communion with all He has created. (Eph. 1:17, I Cor. 13:12).
Speakers
Sarah Jenson
Sarah Jenson is a Spiritual Director and Supervisor and currently is working at Champion Counseling Center, a community mental health clinic, while finishing her Masters's in Marriage and Family Therapy. She graduated from Biola in 2010 with a sociology degree and then worked for a non-profit foster care agency for three years. During that time she experienced questions about the Spirit's work in trauma which led her back to Talbot to pursue a Master in Spiritual Formation degree. While working on her ISF degree, she became an RD in Alpha and loved her experience of caring for the women of that hall. She has been married to Torrey Honors professor Matt Jenson for a year and a half and they are expecting their first child, (It's a Girl!) this June. Sarah loves looking at unlikely animal friends' photos when she is sad and enjoys making pies, eating good ice cream, and going on beautiful hikes with people she loves, especially hikes her home state of Washington.
Questions?
Contact:
(562) 903-4874
chapel@biola.edu