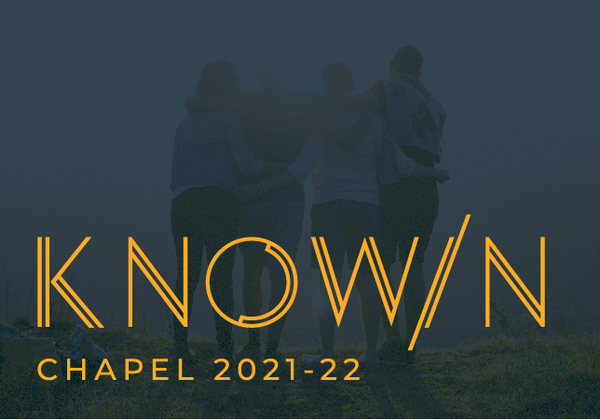 Known: In person & Livestream-
Dave Merrill
Wednesday, January 26, 2022
9:30–10:20 a.m. Pacific

Sutherland Auditorium
Hosted By: Spiritual Development

Open to: Alumni, Faculty, General Public, Parents, Staff, Students
Cost and Admission
This event is free to attend.
"Where is there Life?" What is the vision of the good life that has captivated your imagination and taken root in your heart? Let's consider how Jesus invites us to look to Him as our greatest good, our source and life, and how we are so easily led into believing life can be found in lesser things.
Speakers
Dave Merrill
Dr. Merrill and his wife first joined the Biola community in 2006 when Merrill began as a MDiv student and his wife took on an administration role at Talbot's Institute for Spiritual Formation. During his time as a student, Merrill immersed himself in the academic and communal life of the campus taking on roles varying from adjunct faculty, staff spiritual director, and resident coordinator. Merrill earned his Master of Divinity in Spiritual Formation in 2010 and Master of Theology in 2012. In 2017, he completed his doctorate in theology at Durham University, in England. He still misses those beautiful crisp morning English countryside walks to his office every day. Merrill's thesis dealt with the spiritual theology of Thomas Traherne; exploring how beauty and desire function as central components in his theological convictions and pastoral impulse. For the past four years he has been teaching spiritual formation courses for Talbot's core curriculum. Before assuming a full-time role at Talbot two years ago, Merrill helped pastor a church in Paradise, California – Paradise Evangelical Free Church – as it navigated the aftermath of the 2018 devastating fires there and the ongoing call of God for that city. He still tries to find ways to minister to that community.
Questions?
Contact:
(562) 903-4874
chapel@biola.edu