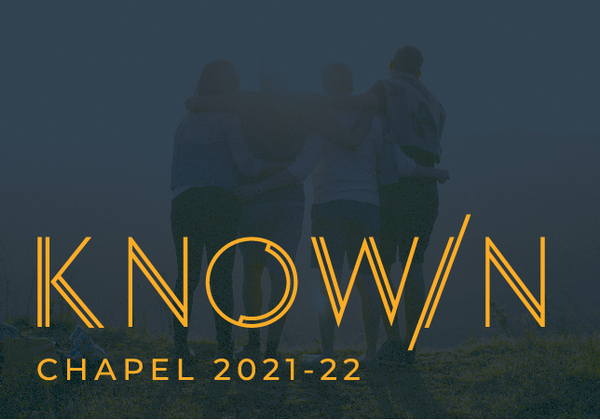 Known
Brett McCracken
Wednesday, February 9, 2022
9:30–10:20 a.m. Pacific

Sutherland Auditorium
Hosted By: Spiritual Development

Open to: Alumni, Faculty, General Public, Parents, Staff, Students
Cost and Admission
This event is free to attend.
Join us in Know/n chapels where we will explore the truths found throughout scripture that we can know and are known by God, which opens us to communion with all He has created. (Eph. 1:17, I Cor. 13:12).
Speakers
Brett McCracken
Brett McCracken is a senior editor and director of communications at The Gospel Coalition. He is the author of of The Wisdom Pyramid: Feeding Your Soul in a Post-Truth World, Hipster Christianity: When Church & Cool Collide (Baker, 2010), Gray Matters: Navigating the Space Between Legalism & Liberty (Baker, 2013), and Uncomfortable: The Awkward and Essential Challenge of Christian Community (Crossway, 2017). He has written for The Wall Street Journal, The Washington Post, Huffington Post, CNN.com, The Princeton Theological Review, Mediascape, Books & Culture, Christianity Today, Relevant, IMAGE Journal, Converge, Mere Orthodoxy, ERLC, Canon & Culture and Q Ideas. He speaks and lectures frequently at universities, churches and conferences.
Brett and his wife Kira live in Santa Ana, California and are active in their local church, Southlands, where Brett serves as a pastor/elder. Brett loves movies, particularly those by Terrence Malick (or those with a Malickean sensibility). Other things Brett enjoys: Marilynne Robinson, the Inklings, Kansas Jayhawk basketball, the Kansas City Royals, reading and writing in coffeeshops, history, art museums, food, hiking, traveling, planning trip itineraries and making things better by editing.
Questions?
Contact:
(562) 903-4874
chapel@biola.edu