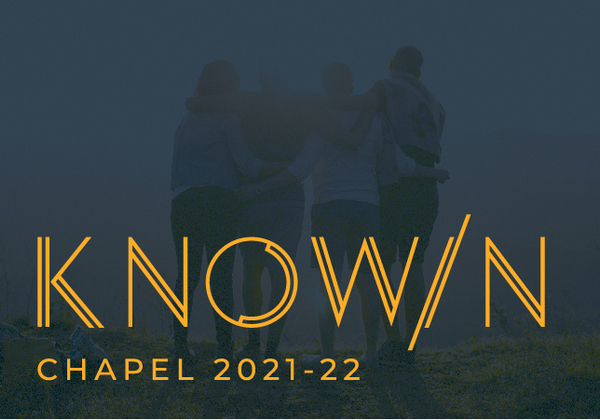 Known:
Melissa Schubert
Monday, April 11, 2022
9:30–10:20 a.m. Pacific

Chase Gymnasium
Hosted By: Spiritual Development

Open to: Alumni, Faculty, General Public, Parents, Staff, Students
Cost and Admission
This event is free to attend.
Join us in Know/n chapels where we will explore the truths found throughout scripture that we can know and are known by God, which opens us to communion with all He has created. (Eph. 1:17, I Cor. 13:12).
Speakers
Melissa Schubert
When Melissa Schubert was in sixth grade, her grandpa, because he was retiring from the pastorate and because he loved her, let her plunder his book-filled study. Loving books, words, and ideas has been core to her love of God and others ever since.
Her academic specialization is Renaissance English poetry, which persuades her that the world is infinitely interesting and that good words enrich the Christian life. She finds regular confirmation that this is so, whether in her garden or on her bike, with her church or beside her nieces and nephews, who, along with her students and colleagues, help her pursue language and imagination keen enough to unfold this terrestrial life and strong enough to hope for the life of the world to come.
INTERESTING FACT: She biked England coast to coast a few summers ago (it was, by her own admission, one of the country's narrowest points).
Questions?
Contact:
(562) 903-4874
chapel@biola.edu