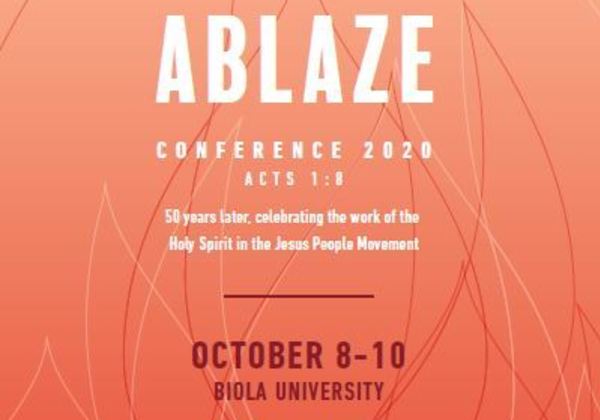 Ablaze Conference
Celebrating the Work of the Holy Spirit in the Jesus People Movement
Cost and Admission
This event is free to attend.
As we have come to examine the Jesus Movement of the 60's, in which the Holy Spirit provoked a spiritual awakening all across Southern California, transforming hippies to preachers and saving thousands of lives by the power of the Cross of Jesus Christ, we ask "Can the Holy Spirit do it again?" We believe He can! We believe our faithful Lord can do it again in our university and students, in our churches, and in our lives. Thus, this conference will be designed to compel us to pursue an outpouring of the Holy Spirit, to respond to the call of rekindling our passion for evangelism, and to continue faithfully preaching the transformative Gospel of the Cross. For these reasons, in 2020, we will launch the first Holy Spirit Empowerment Conference sponsored by the Center for the Study of the Work and Ministry of the Holy Spirit Today, in partnership with the Billy Graham Center at Wheaton College, IL.

Over the course of three days, we will examine the work of the Holy Spirit in the Jesus Movement and look forward to the move of the Holy Spirit today through His people. You will hear from numerous pastors, evangelists, and scholars through plenaries, panels, and workshops centering around Worship, Evangelism, Reconciliation, Outreach, Pastoral Ministries, Theology, and more. You will also worship together with the Biola and local community, with each session led by artists and worship bands from across the country.
Questions?
Contact Center for the Study of the Work and Ministry of the Holy Spirit Today at:
562-903-4745
holyspirit.center@biola.edu