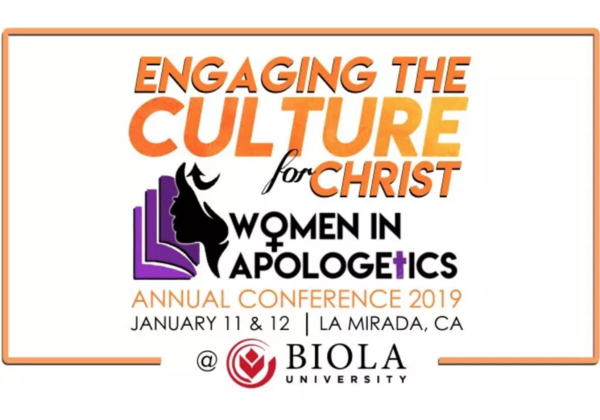 Women in Apologetics Conference
Engaging the Culture for Christ
Feinberg - Calvary Chapel

Open to: Alumni, Faculty, General Public, Parents, Staff, Students
Join us for the 2nd Annual Women in Apologetics Conference, "Engaging the Culture for Christ," at Biola University. This year's conference will equip, educate and encourage you to have compassion without compromise and impact the culture for Christ. That's why our theme is Engaging the Culture for Christ!
Schedule
Friday, January 11th
6:00 p.m. Doors Open
6:30 p.m. Event Begins
6:40 p.m. Worship with Alisa Childers
7:00 p.m. Keynote 1: Michelle Tepper: "Is the Bible Good News for Women?"
8:00 p.m. Break
8:25 p.m. Keynote 2: Tricia Scribner: "Life Givers Apologetics"
9:30 p.m. Event Ends

Saturday, January 12th
8:30 a.m. Doors Open
9:00 a.m. Event Begins
9:10 a.m. Worship with Alisa Childers
9:35 a.m. Keynote 3: Kristen Davis: "Old Testament: History of Hoax?"
10:35 a.m. Break
11:00 a.m. Breakout Sessions A
12:00 p.m. Lunch
1:30 p.m. Breakout Sessions B
2:30 p.m. Break
2:50 p.m. Breakout Sessions C
3:50 p.m. Break
4:10 p.m. Keynote 4: Krista Bontrager: "Christian Values in Changing Times"
5:30 p.m. Event Ends

Breakout Speakers
Laurie Stewart
Hillary Morgan Ferrer
Jade Turner
Claudia Kalmikov
Amy Hall
Alisa Childers
Brittney Brown
Marilyn Joy Tyner
La Nej Garrison
Rebekah Valerius
Elizabeth Urbanowicz
Cynthia Hampton
Learn more about all the WIA Speakers
Live Stream:
We will be live streaming both worship times and all four keynote speakers. Register for the live stream now!
We will also be offering a full day of WIA Kids on Saturday, January 12, 2019, for children in grades 3–6.
Questions?
Contact Megan Clark at:
(562) 906-4570
conference.coordinator@biola.edu