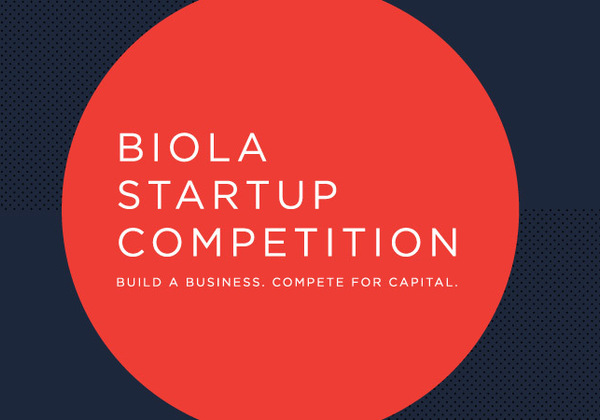 Workshop #2 Evening with the Stars
Insight from 1st Place Winners of the Biola Startup Competition
Monday, October 1, 2018
7:30–9 p.m.

Cafe Banquet Room

Open to: Alumni, Faculty, General Public, Parents, Staff, Students
Cost and Admission
This event is free to attend.
The Biola Startup Competition is an unique opportunity for Biola undergrad students, grad students and alumni (10 years out) to work a Startup idea from Concept to Business Plan to Pitch to Startup. Hear how the winners did it — and won $15,000 each.
Speakers
Jordan Terranova
Founder, Illuminate International
Jordan is an innovator passionate about finding sustainable solutions to big world problems. To address some of the biggest needs she witnessed in Kenya, she and her husband John began a non-profit education and publishing company, Illuminate International. Illuminate won the Biola Crowell School of Business Startup Competition in 2017. Jordan is a May 2017 graduate of Biola University's Crowell School of Business, and a 2017 Praxis Future Founder. Jordan is excited to continually building her venture and also recently started working at Biola as the Online Program Coordinator for the recently launched online business degree program.
Karissa Le
Founder, Youniquely_Made
Karissa seeks to bridge the gap between creatives and management. She is fascinated by marketing and the ability to reach a specific demographic by understanding data. She loves numbers and nerdy details that explain why things work. She lives by a rule to always answer if someone asks about what God has done in her life - So ask her! She is amazed at God's perfect plan and gives Him all the glory. Karissa and her husband Joe reside in Southern California. They enjoy rock climbing, eating, and laughing. She is the 1st place winner of the 2018 Biola Startup Competition and a recent Crowell School of Business MBA grad. She is also a Praxis Academy grad.
Ashley Moschetti
Moderator
Senior Business Student and Co-Founder and President of the Biola Entrepreneurship Society (also a Praxis Academy grad).
Questions?
Contact Robert Harp at:
5183
robert.harp@biola.edu
Part of the collection Startup Competition