For information on Biola University's coronavirus (COVID-19) response and updates, visit
biola.edu/coronavirus
.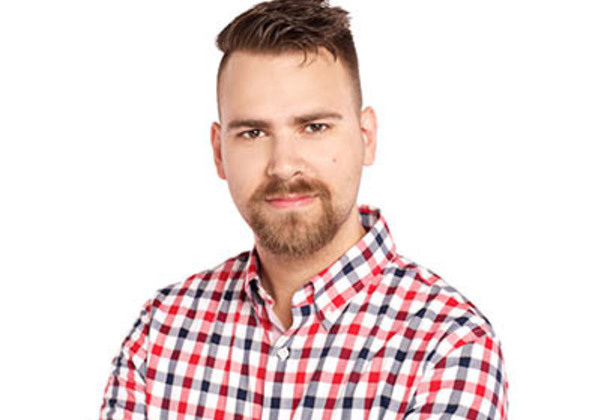 Joel Balzun, baritone and Kevin Garnica, piano
Faculty Recital
Friday, March 9, 2018
7:30 p.m.

Crowell Music Bldg. - Lansing Recital Hall
Hosted By: Conservatory of Music

Open to: Alumni, Faculty, General Public, Parents, Staff, Students
Cost and Admission
This is a paid event.
| | |
| --- | --- |
| $17.00 | General |
| $12.00 | Faculty/Staff/Seniors/Alumni |
| $7.00 | Students |
Through an evening of music by Elgar, Schumann and Tchaikovsky, along with poetry by Charles Baudelaire and Richard Beale, Joel Balzun and Kevin Garnica frame a discussion through music focusing on life with mental illness.
Baritone and composer Joel Balzun is establishing himself as a mature new voice in the future of music. His multi-faceted career has led him to work with some of the world's most respected musicians and ensembles.
Balzun made his solo debut at the Kennedy Centre in 2014, singing excerpts from Turandot. As a 2016 fellow at the Tanglewood Music Center, Balzun sang alongside Stephanie Blythe in a concert of American song and Dawn Upshaw and Sanford Sylvan in Shostakovich's brooding Symphony No. 14. Other past appearances include the title role in Don Giovanni, the Four Villains in Les contes d'Hoffmann, "Prince Yeletskiy" and "Count Tomskiy" (Pikovaya Dama), "Albert" (Werther), "Belcore" (L'elisir d'amore), "Dr. Malatesta" (Don Pasquale), "Valentin" (Faust), "Sid" (Albert Herring) and "John Brooke" (Little Women, M. Adamo), among others. On the concert stage, Mr. Balzun has been a featured soloist in Copland's Old American Songs, Dvořák's Te Deum, Fauré's Requiem, Haydn's The Creation, Mahler's Lieder eines fahrenden Gesellen and numerous cantatas of Bach. His acclaimed performance of Bach's Johannes-Passion with the Rochester Bach Festival was recently broadcast multiple times across the United States. An avid proponent of the music of living and contemporary composers, Mr. Balzun won critical acclaim for his portrayal of the titular "Joseph de Rocher" in the South Florida premiere of Jake Heggie's Dead Man Walking with Miami Music Festival. He worked with the composer on this work, as well as the role of "Charlie" in excerpts from Three Decembers.On the concert stage, he has championed rarely-performed works such as George Rochberg's String Quartet No. 7, as well as Peter Maxwell Davies' virtuosic Eight Songs for a Mad King and numerous performances of Robert Denham's Sutter Creek, among others.
Also an accomplished composer, Mr. Balzun's "haunting and beautiful" music has received international recognition. He was a multiple prize-winner in the 2017 SOCAN Foundation Awards for Young Composers, and a finalist for the 2014 ASCAP Morton Gould Young Composers Awards. Other accolades include winning both the Young Composers Prize and the Grand Prize in the National Broadcast Orchestra's Galaxie Rising Star Composers' Competition, the Dallas Wind Symphony's annual "Call for Fanfares", as well as first prize in the Classical Marimba League International Composition Competition.
Balzun studied Music Composition and Vocal Performance at University of Calgary, Biola University, and the Eastman School of Music, where he earned his master's degree under the tutelage of Jan Opalach and Benton Hess. He currently serves on the voice faculties of Biola University and Fullerton College.
Pianist and composer, Kevin Garnica, received his bachelor's in piano performance and master's in music composition from California State University, Fullerton, where he studied with Eduardo Delgado and Dr. Lloyd Rogers, respectively. He was awarded top prize in his class, and his chamber cantata based on the story of Joan of Arc, Jehanne the Maid, was awarded Outstanding Graduate Composition. In 1995, Garnica became one of the youngest winners of the ASCAP composition competition when his piano piece, Sonata for Scriabin, was chosen from over five-hundred entries. He was also awarded the John Williams Grant for composition. As a soloist and chamber musician, he has performed in Central and South America, Europe and throughout the US. Garnica received his Doctor of Musical Arts from the University of Texas, Austin, with a full assistantship, under the tutelage of Anne Epperson, specializing in collaborative piano. He is the recipient of the George H. Mayr Foundation Full Scholarship in Collaborative Piano. He has performed with members of the Los Angeles Philharmonic, including Concertmaster Martin Chalifour, the Pacific Symphony, Austin Symphony and Irvine Symphony. Garnica is currently the staff pianist and department librarian at Cal Poly Pomona.
Become a member of Friends of the Conservatory.

Questions?
Contact Music Reception at:
(562)903-4892
music@biola.edu
More from Conservatory of Music Concert Series