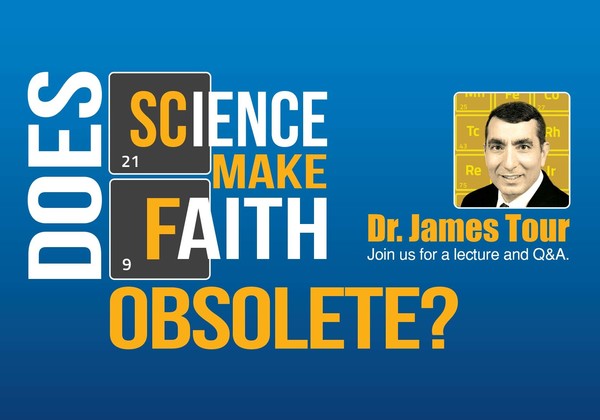 Does Science Make Faith Obsolete?
Presentation by world renowned chemist, Dr. James Tour
Thursday, September 29, 2016
7–9 p.m.

Sutherland Auditorium

Open to: Alumni, Faculty, General Public, Parents, Staff, Students
Cost and Admission
This event is free to attend.
Open to the public and all of Biola campus. Free, no preregistration required.
On Sept. 29, 2016, Biola University will host an evening with Dr. James Tour from Rice University. Tour is ranked as one of the top ten living chemists in the world by Times Higher Education and he was named "Scientist of the Year" by R&D Magazine in 2013. As an expert in molecular structures, Tour is an outspoken critic of macro-evolution and challenges Darwinists to offer a chemistry-level explanation for how the large-scale coordinated changes required by this theory could possibly happen by unguided processes. Tour thinks that for many people, Darwinism is a religion, and he calls upon other scientists to be more openly skeptical of its status as an unquestionable axiom in biology today as well as in our culture.
Tour will be speaking on "Does Science Make Faith Obsolete?" and will include his powerful testimony as a Messianic Jew. The free lecture begins at 7 p.m. in Sutherland Auditorium and will be followed by a time of Q&A. This event is open to the entire Biola community and the public.
Questions?
Contact Peggy Giboney at:
562.903.4852
peggy.giboney@biola.edu