Entertainment Producing Concentration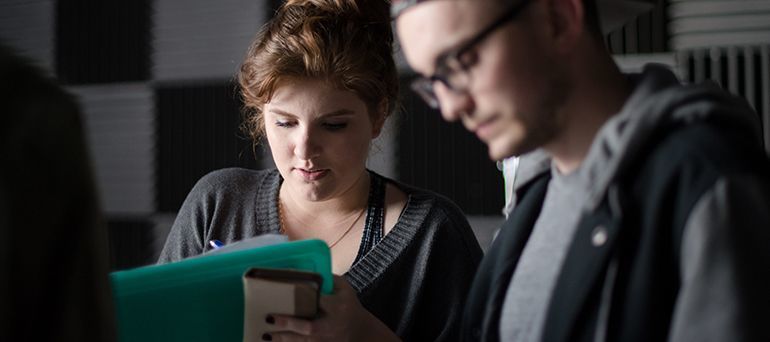 An entertainment producing concentration introduces students to the business principles that drive the entertainment industry.
Producers make strategic decisions regarding what films get produced and what TV shows get aired. These executives control the content pipeline in music, movies, TV, sports, fashion and advertising. They work in marketing, accounting, development, programming, exhibition and distribution. Entertainment producing also offers future producers grounding in the bottom line decisions that make or break a project's profitability.
By combining classes in mass media and business, students are equipped to serve as producers or development and marketing executives, en route to corporate management.
Freshman Year
Starting their freshman year they will learn the important elements of story in Art of Storytelling. They will be exposed to the cultural impact of mass media in their Media Literacy course. Our Entertainment Business quickly exposes them to the multiple jobs and careers and strategies for navigating the industry.
Sophomore/Junior Year
In their sophomore and junior year, students will learn about the various legal and ethical issues that affect executive dealmakers as part of the business landscape. Depending upon the approach a student may wish to take in this focus, they also have the opportunity to take accounting classes, production management classes and classes in television programming. As an emerging executive or producer in the entertainment business, it is important they learn the basics of filmmaking. Therefore classes in motion picture production or in screenwriting are recommended.
Senior Year
By their senior year in the media producing concentration, they will be given an opportunity to create and hone a project to pitched to a number of current film executives from Hollywood. The executives will give them feedback — and in the past have even purchased some of the projects our students have presented! Also during their final year, they can work on various independent projects ranging from forecasting a network television season to producing a short film. Finally, their internship culminates as the key component to this emphasis, providing the opportunity to be hired directly from their time working as assistants at the studios or with producers.
You may also be interested in