Online B.S. in Communication
Overview
Communication is at the heart of all we do. Through our fully online B.S. in Communication, you will gain expertise in critical thinking, writing and speaking skills –– skills that are an asset in any career. With the demands of the modern workplace always evolving, you will learn to excel at internal communication, presenting innovative ideas to colleagues and clients, and applying your creativity to problem solving. Our fully online degree in Communication will empower you to be an invaluable member of your team.
We are currently accepting applications for the Fall 2022 semester.
If you are interested in an on-campus learning experience, consider the B.A. in Communication Studies degree.
Biola's online bachelor's degree in communication offers several key advantages:
Think well. Write well.
Studying Communication allows you to dig deeper into critical thinking and writing skills. You will learn to refine your writing process, and adapt content and messaging for different types of audiences. From emailing coworkers to strategic campaigns, you'll be equipped to expertly craft your writing.
Present with Confidence.
Great ideas are just the beginning. Bringing that idea to reality requires learning to communicate well to your colleagues and clients. You'll learn key rhetorical practices that will give you the tools to present innovative strategies and solutions with ease.
Enroll in a Nationally Recognized Program.
Biola's Communication programs are nationally recognized by the Religious Communication Association and the National Communication Association. Students can become members at a special discounted rate by joining through the Communications department. Contact a faculty member to learn more.
Earn Your Degree at an Affordable Price.
This communication degree boasts a condensed but robust curriculum. It's specially designed to integrate the content of our B.A. in Communication Studies program (our on-campus bachelor's degree) into a structured B.S. in Communication — all with tuition priced roughly one-third of the cost of Biola's traditional undergraduate programs.
Your Schedule Matters.
You can complete our flexible, convenient online program in as little as 24 months (depending on your existing credits and chosen course schedule). Our courses are asynchronous, which means you can complete your weekly coursework on a schedule that works for you.
Yes! Tell Me More!
Courses
What courses will I take as a Communication major?
The B.S. in Communication offers robust, biblically integrated courses that can be applied to your current work and beyond. Some courses include:
Interpersonal Communication (COMM 235)
This course focuses on developing communication skills in the dyadic setting including emphasis on essential preconditions, conflict management, interpersonal relationships, nonverbal behavior and creative supportive climates. Notes: This course has been renumbered to COMM 235 from COMM 270. Grade Mode: A.
Organizational Communication (COMM 387)
The dynamics of organizational communication centering in systems, structures and patterns of work/workplace communication; the role of communication in organizational development. Grade Mode: A.
Communication and Diversity (COMM 473)
Study and analysis of intercultural communication and identity within the context of the United States. Grade Mode: A.
Bible and Theology Coursework
One of Biola's academic distinctives is the minor in biblical and theological studies, which sets a foundation for every student's understanding of Scripture and theology. You will take 30 credits of Bible courses as part of your degree to qualify for a minor in biblical studies.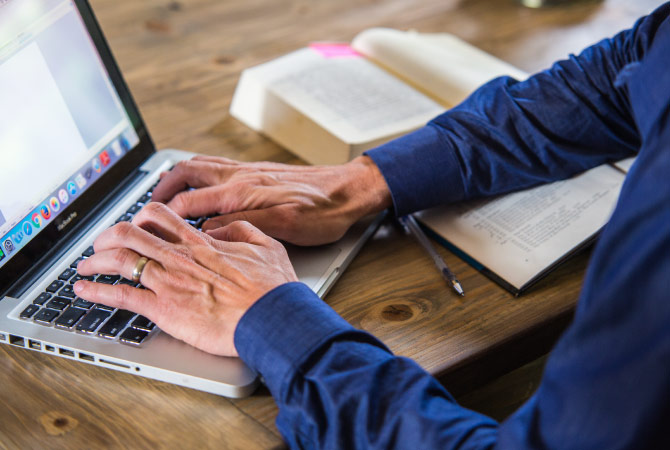 Try an Online Communication Class for Free
Preview a sample lesson and assignment from a communication course to experience our online platform firsthand. See just how flexible your educational journey can be with our fully online courses!
Career Outlook and Preparation
What can you do with a Bachelor of Science in Communication?
A degree in communication can be a great way to advance in your current profession, but it may also present new opportunities to expand your career choices. The education you'll receive at Biola will equip you with the tools you need to enter any workplace as a confident, competent and effective communicator. Some possible paths include:
Communications manager
Corporate communications director
Lawyer
Bible teacher or pastor
Entrepreneur
Church communications director
Marketing manager
Graduate study (law school, doctoral studies and more)
10% job growth
According the Bureau of Labor Statistics job growth for marketing managers is projected to be as fast as average between 2020 and 2030.
BLS projections are not specific to Biola University students or graduates.
Tuition and Financial Aid
As you consider the cost of college, keep in mind that more than 80% of Biola students receive some form of financial aid. We're here to walk alongside you as you balance tuition and costs with different scholarship and aid opportunities.
Faculty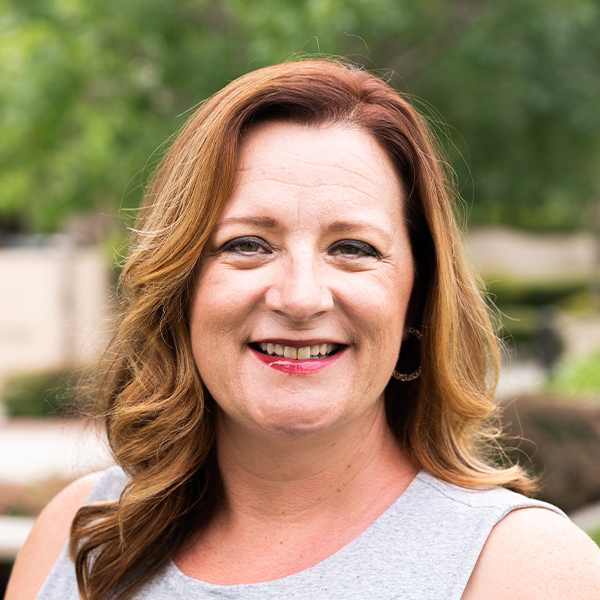 Faculty Spotlight
Joy Qualls
Associate Dean, Division of Communication, School of Fine Arts and Communication
Ph.D., Regent University, Virginia Beach, Virginia
M.A., Regent University, Virginia Beach, Virginia
B.A., Vanguard University, Costa Mesa, California
You may also be interested in