Game Design and Interactive Media Concentration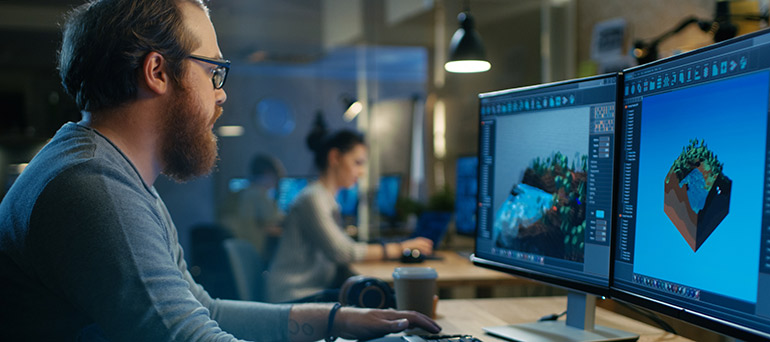 Our games and interactive media concentration prepares students to design innovative, story-driven games that utilize the latest interactive technology.
Beginning with paper prototypes and continuing on to develop several polished digital games, this concentration equips students with the fundamentals of game design. Students discover unique modes of play through iterative design and playtesting, integrating cinematic storytelling with interactive mechanics.
Students are also exposed to 3D art making, technical implementation in state-of-the-art game engines, and emerging technologies such as virtual and augmented reality. Graduates are prepared to work as designers and producers in the game industry, or to create festival-quality games as an independent developer.
Freshman Year
Games represent a convergence of different mediums, which is why freshman year introduces students to the fundamentals of film, 3D art and computer programming. The film courses are shared with writing and production students, which helps foster community and develop a common language for visual storytelling.
Sophomore Year
Sophomores are introduced to the iterative game design process. This begins with a goal for the experience you want players to have. Next, a "core mechanic" is chosen — this is the primary gameplay goal and method of interactivity. Students then create prototypes (physical and digital) to test the chosen mechanic. This culminates in playtesting sessions where the designers watch fellow students play and critique their games. The process repeats until the design is finalized.
Junior Year
Junior year takes students beyond the fundamentals, exploring how to effectively integrate story with gameplay. This is no easy feat, due to the interactive nature of games: while traditional stories give the writer absolute control over the experience, games give the player choices that could cause them to miss critical events in the story. Students will learn established game narrative techniques while discovering untapped storytelling possibilities.
Juniors will also gain familiarity with the technical tools of game development. This includes game engines (software tools for building 3D games), visual effects software, and multimedia and web programs.
Senior Year
The Senior Media Project allows students to develop a polished digital game, suitable for entering in independent games festivals such as IndieCade and IGF. Students will have the opportunity to gain real-world experience as an intern at a game or media company. There are additional opportunities for growth such as the Integration Seminar, which helps students explore how to bring their faith to game design — be it through evangelism, service or simply by being a light in secular industry.
You may also be interested in