Biola University professor of writing for film and TV, Camille Tucker, co-wrote with Sylvia Jones the screenplay for the film The Clark Sisters: First Ladies of Gospel, which has been nominated for five NAACP Image Awards. The film, produced by Grammy Award winners Queen Latifah, Mary J. Blige and Missy Elliott, premiered on Lifetime on April 11, 2020.
The film was nominated for Outstanding Television Movie, Limited-Series or Dramatic Special, Outstanding Soundtrack/Compilation Album, Outstanding Directing in a Television Movie or Special, Outstanding Actress in a Television Movie, Limited-Series or Dramatic Special, and Outstanding Writing in a Television Movie or Special, with the last one specifically honoring Tucker. For that award, she is going up against Lin Manuel Miranda for Hamilton as well as other esteemed screenwriters.
The film depicts the story of the five Clark sisters who became the highest-selling female gospel group in history and their mother, Mattie Moss Clark. The film covers the family's humble beginnings and obstacles they had to navigate to achieve international fame in the gospel industry.
When Tucker first heard of the nominations, she was overwhelmed and excited.
"I was just like pinch me, pinch me! Praise God! I'm a girl from Compton, CA and I, just like anybody from any town, never imagined that maybe one day I would be nominated for a big award like this for writing," said Tucker.
The award nominations are a representation of her personal accomplishments.
"Being nominated for an Image Award to me is an acknowledgement of the investment that I've made in my craft as a writer. It's an acknowledgement of my faith in God and my courage to pursue my calling and my vocation as a writer," said Tucker. "I am someone who started my writing career over 20 years ago, and have sewn a lot of seeds. It's a blessing to see [the] 'reaping [of] the harvest.'"
Regarding the film itself, Tucker is proud of the respect for African American women displayed in the story as well as the creative team behind the piece.
"I am really proud that the Clark Sisters film is a film that gives Black women agency and where we get to see some themes and issues played out through a lens of love and humanity and respect for them," said Tucker. "I'm really proud there were Black women who were all key members of the creative team of this project, editors, the director, the producers and the actresses."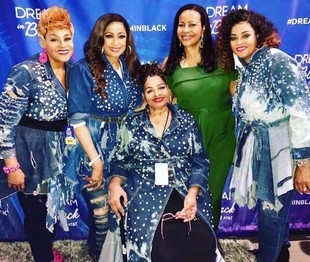 Tucker also emphasized the uniqueness of the film because of its authenticity brought to it through its creative team.
"When we talk about diversity and inclusion in the media, I feel like this is such a strong representation of that. One thing people kept saying is authenticity. I think that authenticity came out of our individual stories that we brought to the whole of the piece," said Tucker. "I think that that authenticity is what people responded to, so I am really proud of that."
The National Association for the Advancement of Colored People (NAACP) is a civil rights organization that was formed in 1909 with a goal to advance justice for African Americans. The first NAACP Image Awards was awarded in 1967 in the heart of the Civil Rights Movement. The award honors Television, Film, Literature and Music created by African American artists.
"I feel like in the Black community, it is our version of the Oscars. It really looks at Black excellence across film, television, music and literature," said Tucker.
Regarding the future of African Americans impacting the film industry, Tucker is hopeful to see African Americans exploring roles and stories where they have not typically been seen. She emphasized the importance of acknowledging the past, but also looking to the future.
"It's just great to see different kinds of faces in the stories that we love," said Tucker.
The NAACP Image Award ceremony will premiere on March 27, 2021 on BET.
Read more about Tucker's background.
Learn more about and apply to the School of Cinema and Media Arts for Fall 2021.
Written by Sarah Dougher, media relations assistant. For more information, contact Jenna Loumagne, Assistant Director of Media Relations and Strategic Communications, at (562) 777-4061 or jenna.loumagne@biola.edu.