Biola has many diverse chapel opportunities throughout the week. One of the more unique Biola chapels is one called "The Biola Hour," which has the feel of a podcast. The first half of the chapel is an interview with a guest speaker who has been invited to speak on a culturally relevant topic. The second half of the chapel is dedicated to allowing students to text in questions to be answered by the guest speaker. The host of the chapel each week is Mike Ahn, the Director of Worship and Formation at Biola.

Last Friday, the guest speaker for the Biola Hour chapel was one of Biola's own faculty, Arianna Molloy. Dr. Molloy is a current Assistant Professor in the Department of Communication Studies at Biola who has received multiple awards and is passionate about communication and the topic of work.

Speaking of her passion about work, the topic Dr. Molloy shared with the Biola community was the concept of meaningful work.
After telling about her experience with education and work, as well as her passion and fascination with the concept of work, Mike started with the interview:
Her Story
When Arianna was in college, she changed her major about 5 times. She really wrestled through what she wanted to do as a career. At one point, she had the opportunity to intern at a church, but became frustrated because she ended up with a desk job that wasn't fit for her.

After graduating, she was bored and decided to get her masters degree. After moving back into her parents' house during that time, she was left with the question: What is the role of work in my life?
After getting her Ph.D. at the University of Denver, she planned to move back to Seattle. Before leaving, she saw an application to work at Biola and saw it as an opportunity to practice applying for a job. When she landed an interview, she sensed something subtle and attractive about the culture, and that's when she decided it was where she wanted to be.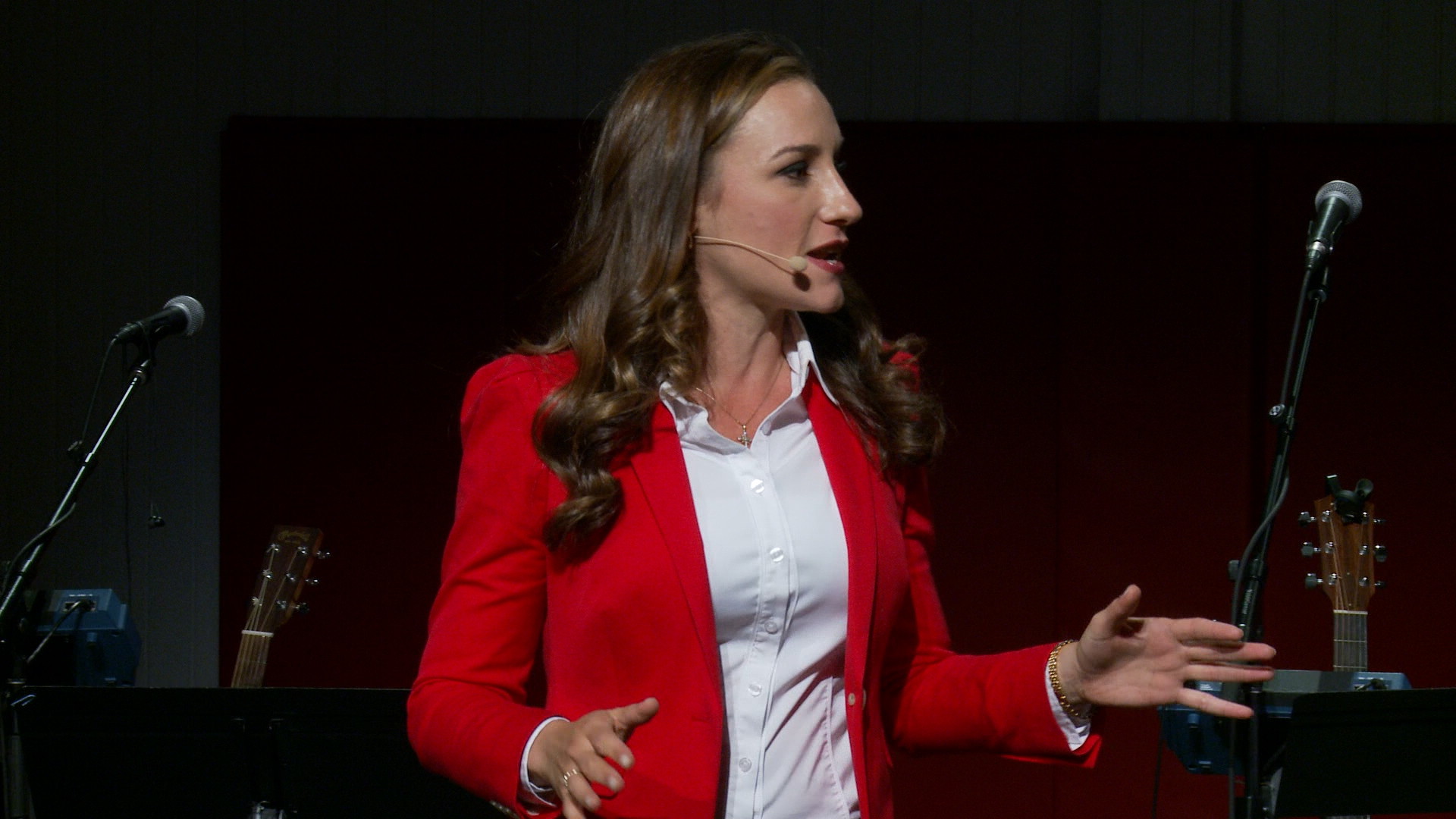 Calling
Those who view their work as a calling are more likely to be satisfied in their jobs, thrive in their jobs, and enjoy the work they do. However, those who are most satisfied and feel the best about their jobs are also the most prone to workaholism and work idolatry. To counteract that temptation, we must commit to regular rest from our work to balance us.
In general, there are three ways we as people view work:
To simply pay the bills.
Merely as a career and an aspiration.
As a divine calling.

After sharing her thoughts on calling, we moved into a question and answer time.

Q: How can you be sure that God is calling you to something?
A: There is a component of proactivity to pursuing work as a calling. First of all, don't dismiss being proactive in the small things; small things being whatever "smaller" roles you're in throughout life. When you're a student, for example, do your best to make that your "calling." Being faithful to the smaller responsibilities and roles in your life will help bring clarity to other bigger callings. Second, really make an effort to pursue opportunities you think would bring beneficial experience. Thirdly, find people who inspire you and who you look up to, who can be role-models. Seek to gain wisdom and insight from them.
Q: Is it possible for someone to not find their (work) calling?
A: A work-calling isn't the most important thing. Work-callings can fluctuate and it's important not to find ultimate meaning and value in work. Statistically people between ages 18-44 change jobs about 10 times.
Q: What do you do when you're a job that doesn't necessarily feel like a calling anymore?
A: In this scenario the best thing you can do is shift the way you see work (something I call "job-crafting"). You can go to your boss and see what they think about giving you new responsibilities, or you can choose to relate with your coworkers in a way that is edifying and encourages your work. The most important thing is to do something; don't just sit in your unenjoyment!
Q: How do you balance work with other commitments like relationships, church responsibilities, etc.?
A: Remember that your work-calling is only meant to be a part of your life. You must make time to rest; and not just "not-working," but resting by investing in emotionally fulfilling yourself through relationships with others. It is SO important to maintain the right perspective and find rest.
Q: What are some practical suggestions for incorporating rest?
A: If you're going to incorporate a day of rest, you have to PLAN accordingly (especially on the days surrounding the rest). There will always be a reason or excuse not to rest. You have to commit to rest and be proactively seeking it. In this culture, there is a battle for our time. We are always moving and always trying to multitask. We can tithe with money, but try to tithe with your time as well.
Arianna Molloy concluded the chapel by quoting Colossians 3:23: "Whatever you do, work heartily, as for the Lord and not for men." In the words of Dr. Molloy, "God is shaping us to fulfill the wonderful plans he has for us. In whatever work you're doing, allow God to use it in your life."
Arianna Molloy's message was extremely helpful to me. As a college student, it is so easy to lose sight of the value and richness of studying at Biola. I was reminded how important it is to view all work as a privilege and as an opportunity to develop and grow.

The chapel staff at Biola works hard to make every chapel just as relevant and impactful as this one. Chapels are an amazing resource to have, and I hope you come experience them yourself!
Sincerely,
Blogger Blake