This is surreal. I can't believe this is my last blog. I was trying to think of what I should write for my big sha-bang of an exit other than a "farewell" post. Because, let's be real, if I did that, this blog would be a weepy mess. So I'm just going to touch on the past year as a whole and then move on to giving some advice to you incoming students!
Sophomore year at Biola has been full of joy, hardship, and so much more. It always amazes me to look back in my journal and see what I was praying for throughout the year. Not only have I been able to look through my journal, but also my blogs! This job has given me the amazing opportunity to connect with prospective students, become great friends with my awesome coworkers, and share about this unique stage in my life. I look back and see the time when I changed my major, when I took a road trip to San Francisco, when I found out I was going on a summer missions trip, when I studied abroad in EUROPE, when I struggled with my relationship with God, and when I felt close to Jesus. It's been amazing to watch the Lord's provision unfold in my life over these short nine months.
I recently stumbled across this picture of my first day of this school year! Feat. friends: Claire Pettit and Claire Roche (a fellow Biola Blogger).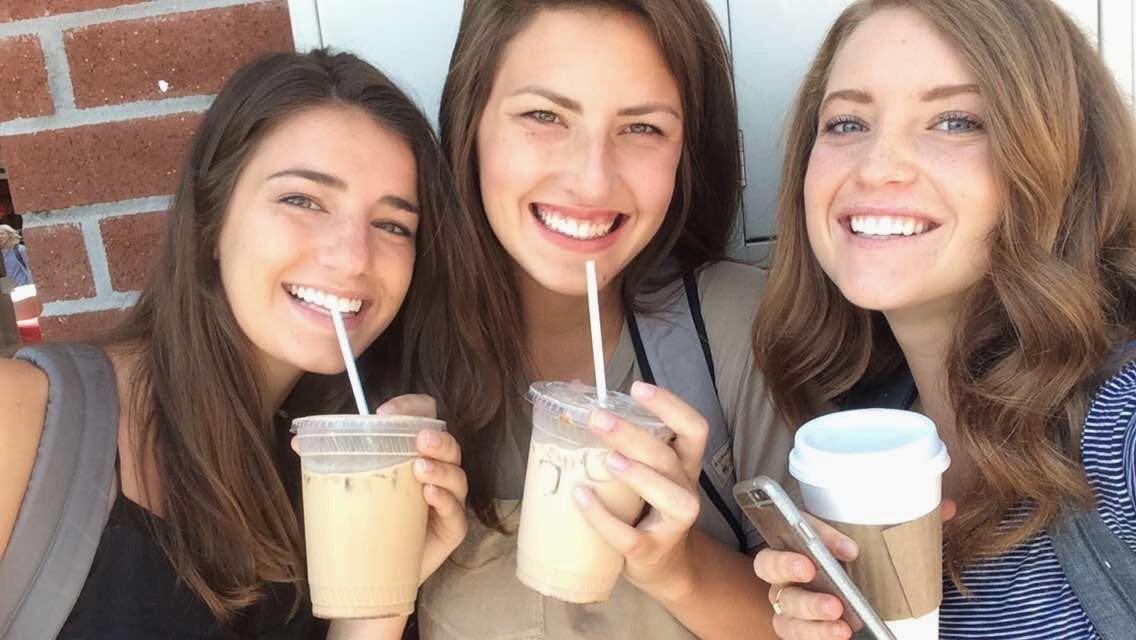 Now for the fun part:
Tips and Tricks for Incoming Students!
1. How to pack:

- Only pack necessities. Only pack things that you actually use/like. Don't worry, necessities include your stuffed animal and favorite poster! Just don't bring an excessive amount of stuff. Remember that Biola isn't in "no-man's land," so there are Targets, Walmarts, and Bed Bath and Beyonds close to campus (a.k.a. wait to make that mini fridge purchase).
- Use your clothes as bubble wrap! I found this to be extremely helpful while packing. I still use this trick. In fact, I just did it about an hour ago while I was packing up my dorm. For example, I stuck my glass perfume bottle in my sock bin and I surround other fragile items with rolled up shirts in my packing box.
2. What to bring:

- USE PINTEREST. This was such a great resource for when I was preparing for my first year. Looking at the lists on there reminded me of things I forgot to think about. Yes, this is to all you guys out there too! Don't be afraid of it. You don't even need an account to search for a list or anything!
- Things that I've loved having with me:
- Stain remover (spray bottle or Tide-2-Go) and wrinkle remover spray
- Personal printer. You do not need one because you can print anything out in the library. However, it makes things easier when I'm late for a class and need to print something out real quick!
- Command hooks. Just do it.
- Soft blankets. I don't know what it is, but they're my weakness. Perfect for those naps. And yes, naps WILL happen. Often.
- Bulb or twinkle lights. Because the overhead lighting is sometimes too much!
- Mattress topper (mine is a two inch memory foam). Pleeaassseee invest in one of these because you will use it every day. Literally.
3. Random tips:

- Allow yourself to cry, because you will miss home and your family. It will be hard, but everyone else is going through the same thing! You can do this!!
- Don't do your homework in your bed. I know it's tempting, but keep that place as a haven where you only rest and sleep. This will help you fall asleep faster and feel less stressed when you go to bed.
- Set up a Skype/Facetime date with your best friend once a week
- Start/continue a journal so you can remember these precious years as a college student. It will be amazing to look back and see how you've grown
- Use the gym! I hated working out, but now I love it! At Biola, we have a gym that is free to students and faculty. It's a great was to destress and it allows me to eat those ten extra cookies ;)
- Remember that almost everyone is going to be "fake" to some extent during your first couple of weeks. Don't worry if you feel like you haven't made any genuine friends. It takes a while for people to come out of their shell. Saying that, allow yourself to be yourself. There are over four thousand students on campus. I still meet and see new people on a regular basis and I am half way through my time here. You are bound to find a home here at Biola.
- Finally, and most importantly, don't forget God. I know this sounds silly since you will be taking Bible classes surrounded by Christians, but remember to keep your morning devotionals and quiet time. Biola is so saturated with amazing "Christian" things that it can be easy to become spiritually dead. Remember that at the end of the day, your relationship with God is more valuable than knowing all the facts for your New Testament exam.
Well, that's it folks. I hope you have an amazing summer! Writing to you guys has been such a fun experience and I'm so thankful for each and every one of you. If you are attending Biola this coming fall and want a friend, reach out to me! I'd love to grab coffee and get to know you... Seriously. Do it.
Blessins on Blessins,
Isabella