Hey guys! Hope you're doing well. We're definitely in the home stretch of the semester. You got this! I wanted to take a break from my Freshman Survival Guide series and give you a bit of an update on my life.

We got back from spring break a week or two ago, which was so fun! Students here at Biola do a variety of things from going home to going to cool vacation spots around the country to just resting on campus. I did a combination of adventures and resting. I spent Easter in Irvine, a town just south of Biola, with my sister and my brother in-law. It was so good to be with some family on Easter, which was my first away from home. I was also able to see two of my friends from Atlanta who play football at USC!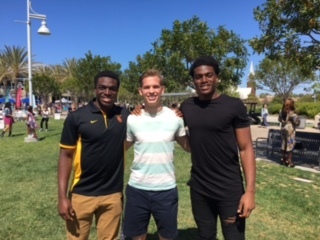 After spending the weekend with them, I embarked on an adventure with my roommate, Josh, and another friend, Luke. We hiked the Trans-Catalina trail on Catalina Island. It's a short hour-long ferry ride from Newport beach to Avalon, one of two small towns on Catalina. Catalina is a mountainous island off the California coast, and it was absolutely beautiful.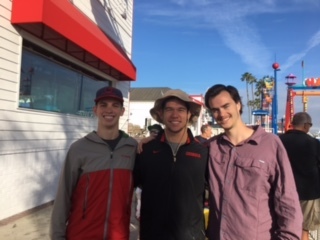 This was probably the most college boy trip of all time. What does that mean? It means we were embarrassingly unprepared (but we did bring two pounds of gummy bears… and yes, we ate them all). We were unprepared in so many ways. From buying all of our food at 11p.m. the night before, to packing our backpacks (which were 50 pounds each) at 1a.m., to not knowing basic details of how we were supposed to get back to Avalon to catch our ferry home, it was a logistical disaster.
We were unprepared physically as well. From getting 3 hours of sleep the night before a 17 mile hike to being in pathetic cardiovascular shape, this hike absolutely destroyed us. I remember being two miles in after ascending almost 2,000 feet debating turning around and going back.
You're probably thinking, "There's no way things could get worse, right Chris?" Oh, it gets worse. My two amazing friends forgot to fill up one of their water bottles and left two more behind. So, we split only about 2 liters of water between the three of us, which might sound like a normal amount, but for a backpacking trip, we did not have nearly enough water. We were literally telling each other that we could not drink water for several miles to preserve what we had. Not good…

Despite some rough moments because of our idiocy, this trip was amazing. It was amazing to spend time with two amazing guys and experience some adventurous things. For example, we had two separate stand offs with wild buffalos. The first standoff was only one buffalo, but he was blocking the trail for an hour and a half. We eventually were able to get around him, but it was intense. During the second encounter, we split through a herd of around 15 buffalo, and one of them legitimately almost charged us (he was only 10 yards away). Besides dying, I saw some of the most beautiful views I have ever seen. One night, we had finished our hike for the day and set up camp, but we didn't want to wait to finish the hike the in the morning. So, we spontaneously decided to hike in the fog despite being exhausted. This decision payed off because we got to eat dinner with the sunsetting over the beach with a rainbow peeking through the clouds. Yes, like literally above the clouds. It was amazing to see God's creation in such a beautiful way.
This trip was intense, but it was an absolute blast. I'm so thankful for the people at Biola that make life so fun and so thankful for the adventures available to us in this area!
If you have any questions, feel free to reach out to me! Thanks!
Chris Middleton