Hey Friends!
The year is starting to wrap up. Only three more final exams to take. So close to the end. The end of five classes, the end of a Biola Ambassador job, and the end of my first year of college. Wow. This is my second to last blog before moving on, and I kind of want to talk about what I will be involved in over the summer and during the fall semester.
I kind of mentioned it in the last paragraph, but I will not be continuing as a Biola blogger for my Sophomore year. As I am sure some of you have noticed, I have become increasingly involved in Biola's SMU as I have gone on a mission trip to Argentina, and I am currently leading a mission trip to Nepal over the summer. I felt called to apply to be on staff in SMU next year, and after sending in an application and interviewing, I got hired! As sad as it will be to not be working as an Ambassador next year, I am so excited to see what God has for me.
Before describing my job that I will be doing next year, I want to talk about my summer plans. In two weeks, I will be flying out to Nepal with a team of five people for forty days on a mission trip. My co-leader and I have been planning this trip since December and our whole team is so, so excited to finally get over there. I have grown to love all of my team members so much and I am so expectant for God to do some crazy and miraculous things while we are there. Please pray for our trip, that God will give us boldness and confidence to proudly proclaim His glorious name. This is a picture of my team members when we were in Joshua Tree a few months ago: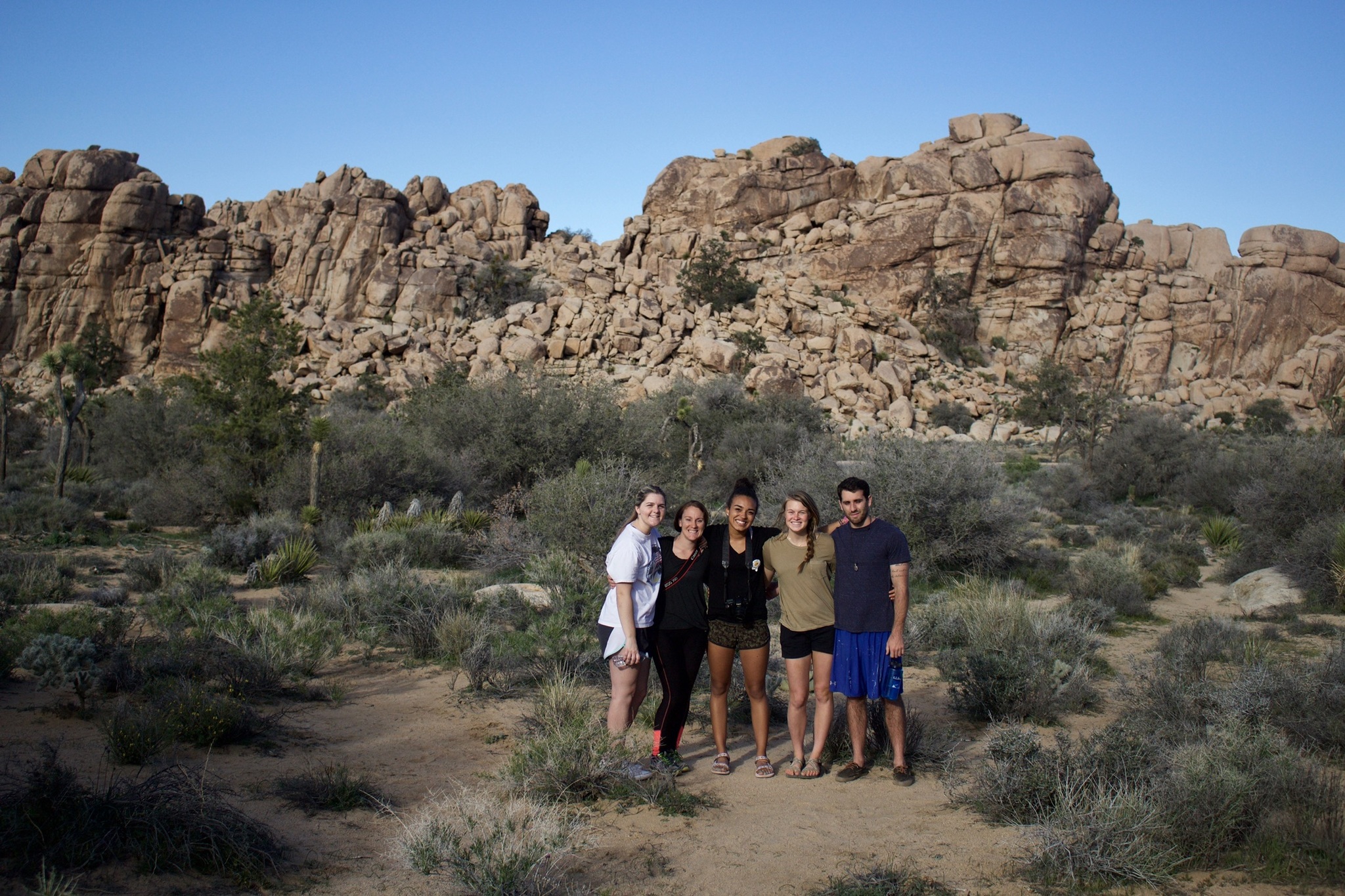 After our trip, I will be heading back to my parents and family in Texas and will be there for the rest of the summer. While there, I will be taking an online class and resting after a long semester. It will be great being with my family after a few months away from them. Hopefully I will be able to slow down and reflect on the year that I had and process what God did in my life and on the trip to Nepal.
I will then be heading back to Biola a week before school starts to begin training for the SMU staff position. I will be working in the Local Missions Department as a Development Coordinator. What I will be doing is discipline and mobilizing future trip leaders going out to local cities around Biola to do mission work during the next school year. I will use the experiences I gained from going on a trip and then leading a trip to help guide other people through the process of leading a trip. Here is a picture of my new staff that I will be working with next year:
Next year is going to look a lot different, but that is the beauty of college. Since I have moved so much in my life, I was worried that it would be weird to be in one place for four years. But I realized recently that the beauty of college is that everything looks different year after year. A whole class leaves, a new class comes in, and everyone does something different.
I'm excited to see what the next year has to hold. Thanks for reading my blogs this year, I'm excited to do one more before the end of the year.
See you guys then,
Jeremy