Jeremy (another blogger) and I were talking earlier today about joy. We talked about everything –– from how good it feels, to what provides joy, to how we can hold onto joy. As believers in Christ, you know the feeling. The joy of the Lord is the real deal! If you've been on a mission trip, you might have come back feeling so purposeful and so full of life because that trip was a microcosm of what real dependence on the Lord is supposed to be like. Everything from homework, to prayer, to time with friends, to eating a meal seems to be full of life and purpose. Joy is supposed to be a natural product of relationship with God.
The problem is, a lot of the time, I don't feel this way. This past week I felt like joy was absent from my life. I just felt like I was in a funk.
Jeremy and I were talking about a variety of things that steal the joy of the Lord from our lives. In John 10:10, God calls us to life in abundance, yet the enemy has ways he seeks to steal life from us. There are several small, sly ways the enemy can do this, but one simple way he tempts us is through our own mouth, through complaining.
I complain all the time! Am I the outlier in society because I complain? Not at all. Our society complains all the time. As a Christian, we are called towards thankfulness and selflessness. Complaining is the opposite of those two characteristics. It minimizes your thankfulness by focusing on the negative while causing others to focus on you and your problems. Don't get me wrong –– there's a place for self-evaluation and venting, but it's shocking how much we complain each day.
For my Biblical Interpretation and Spiritual Formation class, we are doing an activity to practice thankfulness. It's a one-day assignment where we focus on what God has given us rather than what is not going right. I started my day of thankfulness writing twenty-five things I am thankful for. This started the day with a thankful heart rather than a selfish heart. After starting with thanksgiving, I was supposed to go a single day without complaining. This was so hard for me. I caught myself mid-sentence often having to say, "Ummmm oh wait ... I probably shouldn't say that." We complain so often, and it's draining our joy.
Where does joy come from? Joy comes from loving the Lord and receiving the love that God has for you. Joy comes from living how you were supposed to live in God's story. Complaining prevents you from receiving what the Lord has given you by hardening your heart. Complaining takes you out of God's story by making you at the center of your circumstances.
Do other areas in your life rob your joy? Probably. But I encourage you to stop complaining this week. It's difficult, but I'm with you on this journey of joy, thankfulness, and selflessness. Watch as the joy you feel at church on Sunday or after a deep talk with a friend doesn't just flee a few hours later, but it carries you into life and life abundantly as Jesus always intended.
Weekly Update: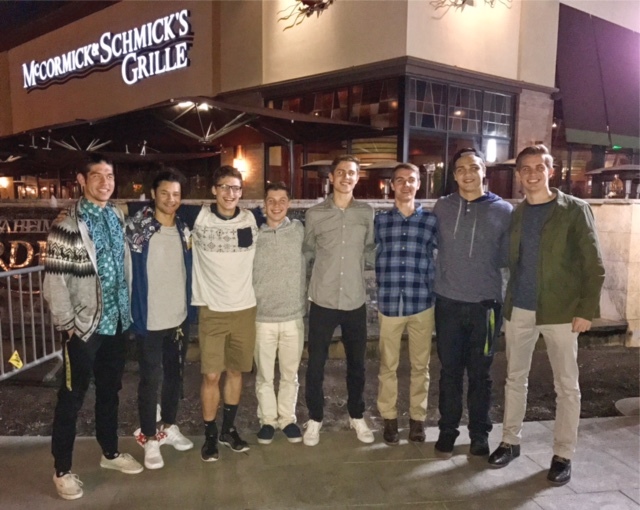 I'm a little over two weeks into my second semester here at Biola. I fall more in love with this place and with the people everyday. I honestly enjoy my classes this semester even more than last semester, which is a huge blessing. I sense God doing a new thing in my heart which excites me. I see friendships growing deeper while also meeting new people each day. This past week was a ton of fun with Biola Bound. My friends and I played a ton of basketball, worked out, and ate far too much In-N-Out this week (so a good week). Friday night, a large group of us went over to a friend's house who lives in the area. Her family hosted us so well. We made pizzas and played a bunch of games. Saturday night, a bunch of the bros went to Downtown Disney and ate a ton of Chinese food. (We played basketball later that night … not the best combo.) I am doing well, and I wake up each day excited for what God has in store.
Feel free to reach out with any questions you have about me or my life!
Chris M