Hey guys!
Hope you are all well. For those of you who have already had spring break, I hope it was AMAZING! For those of you almost on break, I feel your pain! We are almost there, just keep putting one foot in front of the other.
Recently, I've been reflecting on the idea that God wants to bless us. It seems like such a simple concept, but God has recently been really altering my perspective on how He wants to interact with His children. When I hear the phrase "God wants to bless us," my biblical and theological studies major instincts take over. The sirens go off. PROSPERITY GOSPEL ALERT!!! STAY AWAY!
Ok calm down, Chris. God truly wants to bless His children. Need proof? Jesus became God incarnate putting on human flesh to enter and live in a sinful, fallen world for 33 years, and then die a horrific death absent from His Heavenly Father who He deeply loved. All so that we, lost rebels who spit in the face of God consistently, could have life in full with Jesus in this life and in eternity. Sounds like a blessing to me.
Sure, I get that the prosperity gospel is a false gospel. Following Jesus will not naturally improve your circumstances. Believing in Jesus does not mean that cancer will necessarily be healed, that disaster is not far away, or that depression has to stay away. If people are choosing to follow Jesus because of what He can do for you and not because He is Lord of the universe worthy of following with every ounce of your being, that is a false gospel.
That said, the Lord delights in blessing us. Out of fear of slipping into the prosperity gospel mindset, I've stayed away from praying for things. My prayer life has consisted of prayers of exaltation, prayers of thanksgiving, prayers of sanctification, and prayers of ministry. I have limited praying for things I desire out of fear of turning God into Santa Claus. God does care about what we care about. It is worth while to pray for those things.
Will it guarantee that we will get everything we want? No, it does not, because sometimes God has a greater good in mind. A "no" to something we want a "yes" for might lead to a different "yes" that will be better for us. The Lord also uses a "no" as a sanctifying work in our soul, which is far better for us than the immediate gratification of whatever we are praying for.
So are you single? God is sanctifying you and preparing you. Did you not get the position you wanted? God is sanctifying and most likely redirecting you. Is senior year not turning out how you planned? Trust in the Lord.
This is why it is so powerful to believe God wants to bless us and to pray as if that is a reality. Whether God says "yes" or "no," it is powerful to cast your desires on the Lord because it is aligning your heart with His heart.
Weekly Update:
This past week has been more difficult than most to be honest. A lot of small things have seemed to get me down. From injuring my collar bone to getting sick to being busy, I just felt like things were not going my way. It's been awesome to see friends come around me and lift me up! Biola is an amazing place to struggle because people point me back to the Lord. Although I am still sick as I write this, I am looking at the next few days with optimism. I have two friends coming in town from Atlanta for their spring break which will be so fun!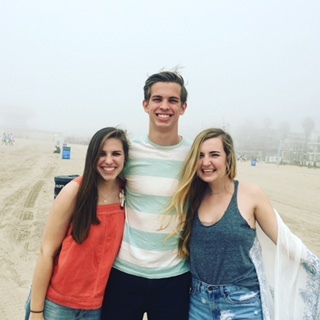 Thanks so much for reading guys! Have the best week!
Chris Middleton